The Uni cistern is delivered pre-assembled and sealed. This means, in the shell construction phase it just has to be connected to the water line – you only need to open it during fine installation.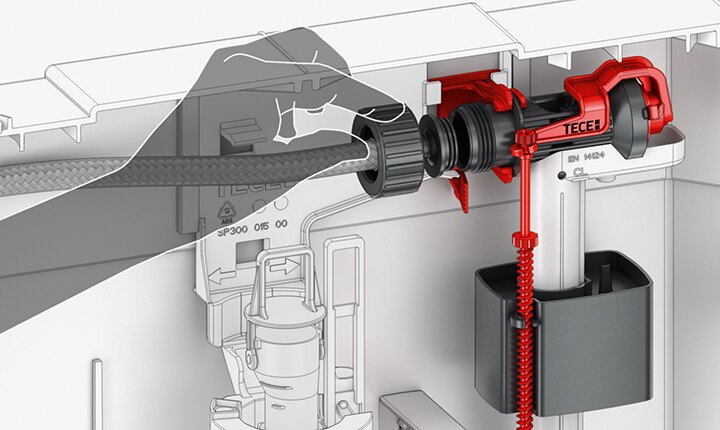 After the shell construction phase: The reinforced hose is attached by screwing it to the filling valve.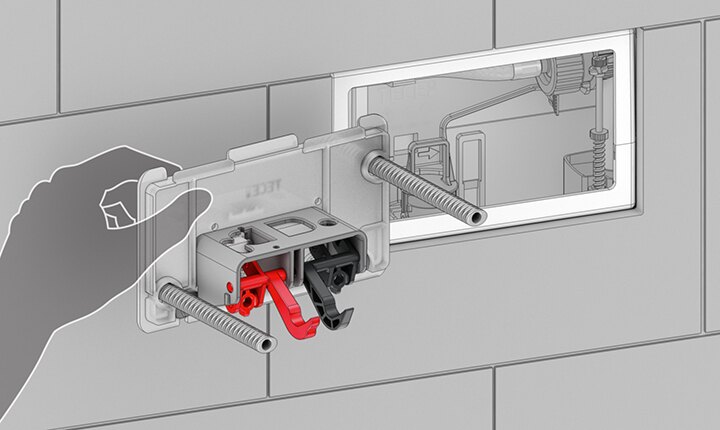 The protective plate is a compact unit consisting of a splash guard, a lever mechanism and an attachment.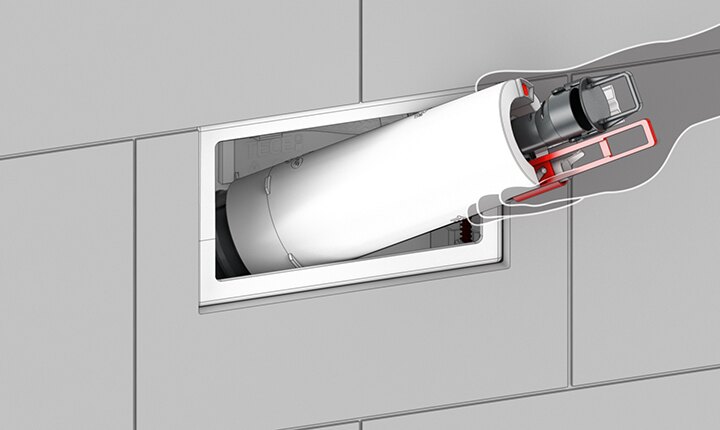 The maintenance is as easy as the assembly: No individual parts need to be disassembled or broken off when swapping the valve – all parts are firmly connected to one another.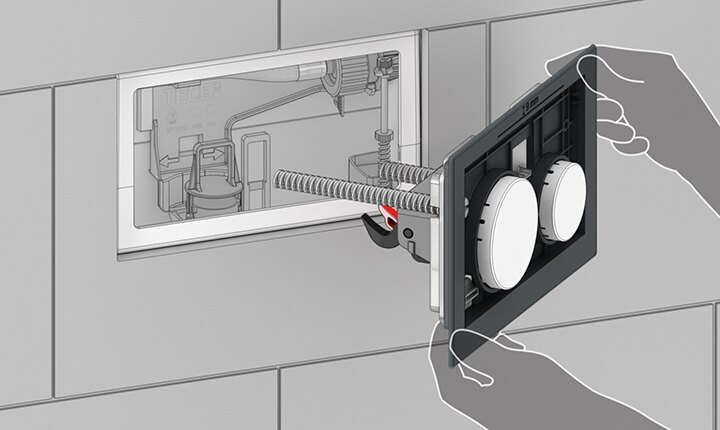 If service is required, the complete technical unit with lever mechanism, cover and mounting plate can be removed. All settings are retained.
Spare parts available for 25 years
TECE confirms that you can purchase spare parts for the continued functionality of a TECE concealed cistern up to 25 years from the manufacturer's date of sale.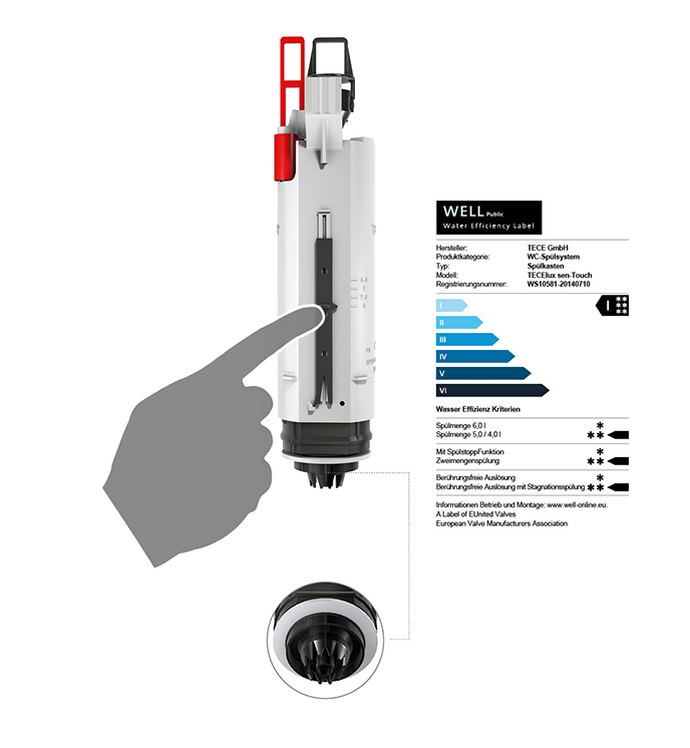 Sound insulation included
Copied from jet planes: A chevron nozzle regulates the flow at the outlet of the optimised drain valve. This ensures stable flow conditions and lower sound levels without disruptive slurping noises.
Flexible setting
From 4.5 to 9 litres with one touch – the Uni cistern can do this too. Thanks to the slide control on the drain valve, it is especially easy to change the full flush volume to meet individual requirements. Good for the environment: Thanks to a real dual-flush system, the partial flush stays constant with a water-saving 3 litres.
Product Highlights
Universal cistern for every application and toilet ceramics
Water tank with 10 litre safety volume
Sealed tank doesn't have to be opened in shell construction
Variable dual-flush system
Flexible flushing pressure adjustment
Easy to install technology and easy fit tool-free quick assembly for flush plates
Tested in accordance with DIN EN 14055
Low-noise hydraulic filling valve
Acoustic group 1 in accordance with DIN 4109 "Sound insulation in buildings"
Can be combined with all TECE flush plates
It fits!
The filling valve F 10 for standard flush-mounted and wall-mounted cisterns.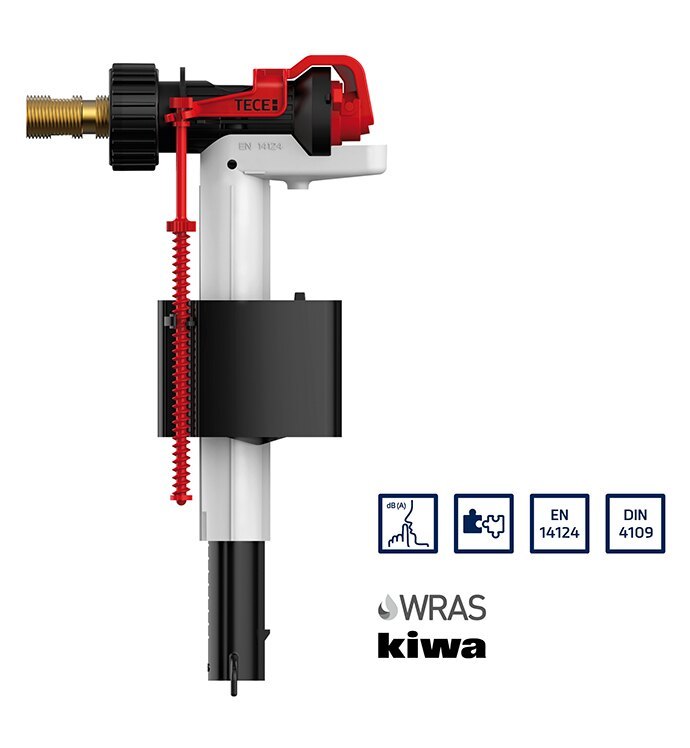 Easy, reliable, quiet
The TECE filling valve F 10 is a component of all TECE cisterns and impresses on several levels all at once: It
complies with the sound protection requirements of
acoustic group I and fills the cistern extremely quiet.
Comfortable, for the fitter, too: That's because the filling valve works just as reliably in almost all standard flush-mounted and wall-mounted cisterns from other manufacturers. And it's also internationally approved.
Just add hygiene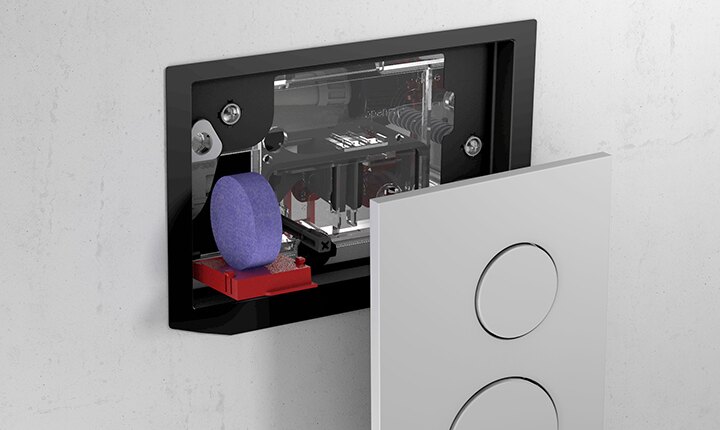 To achieve added hygiene and cleanliness, the Uni cistern can be fitted with an insert chute for cleaning tablets. Remove the flush plate, turn, insert the tab – the path to new freshness is that easy.