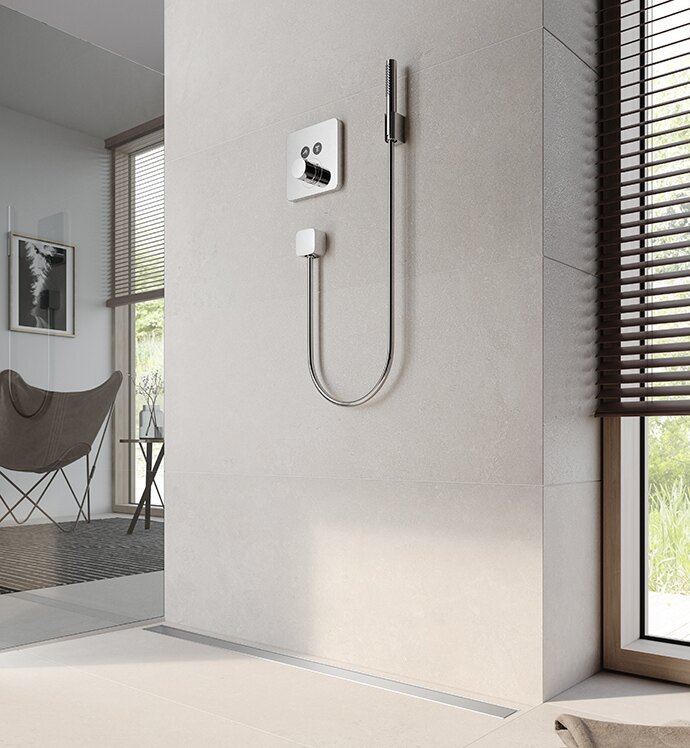 Design that leaves freedom
Perfect solutions sometimes show themselves in restraint. That's why TECE drainage solutions blend in exactly as they are needed.
Whether close to the wall, in the room or even flush with the niche, as an elegant stainless steel version or almost invisible with tile or natural stone support. A TECE shower drain means aesthetics made to measure - for maximum freedom.
Simply hygienic
Enjoy a clever floor drain for the shower. Because well-designed shower drainage dispenses both with corners and cavities that are inaccessible and with threaded parts on which hair and dirt can get caught. Instead, the TECE shower drain relies on consistently designed elements made of hygienic materials that are particularly effective and easy to clean. This means that drainage technology from TECE remains hygienically clean.
Seal System - tested safety for your shower drain
Drainage technology or shower drainage is more than just a good drainage channel for the shower. We test more than just our products. Because the composite seal is only really tight if all components interact optimally. This is why TECE has independently tested and approved a wide range of standard sealing products in combination with the TECE Seal System sealing tape and the TECE Seal System sealing sleeves. More transparency - for more safety.
Are you looking for a drain for a floor-level shower or should the floor draining take place in the room? Are aesthetics and design important to you when it comes to shower drainage? Then you can rely on TECE drainage technology. From floor drains to shower channels: You're guaranteed to find what you're looking for here. Have a look yourself in our drainage technology solutions! 
Always compliant with standards
Product
Water impact classes of DIN 18534
 
TECEdrainline-Evo
with factory-fitted sealing sleeve (100 mm)
W1-I, W2-I, W3-I
 
TECEdrainline
with stainless steel flange (30 mm) and Seal System sealing tape
W1-I, W2-I
 
TECEdrainprofile
with factory-fitted sealing sleeve (100 mm)
W1-I, W2-I, W3-I
 
TECEdrainpoint S
with adhesive flange (50 mm)
W1-I, W2-I, W3-I
 
At a glance
The TECEdrainline, TECEdrainprofile and TECEdrainpoint S drainage channels comply with the requirements of DIN 18534.
Leakage water openings are not necessary with a thin-bed installation.
For composite seals, thin-bed laying of tiles and slabs is required.