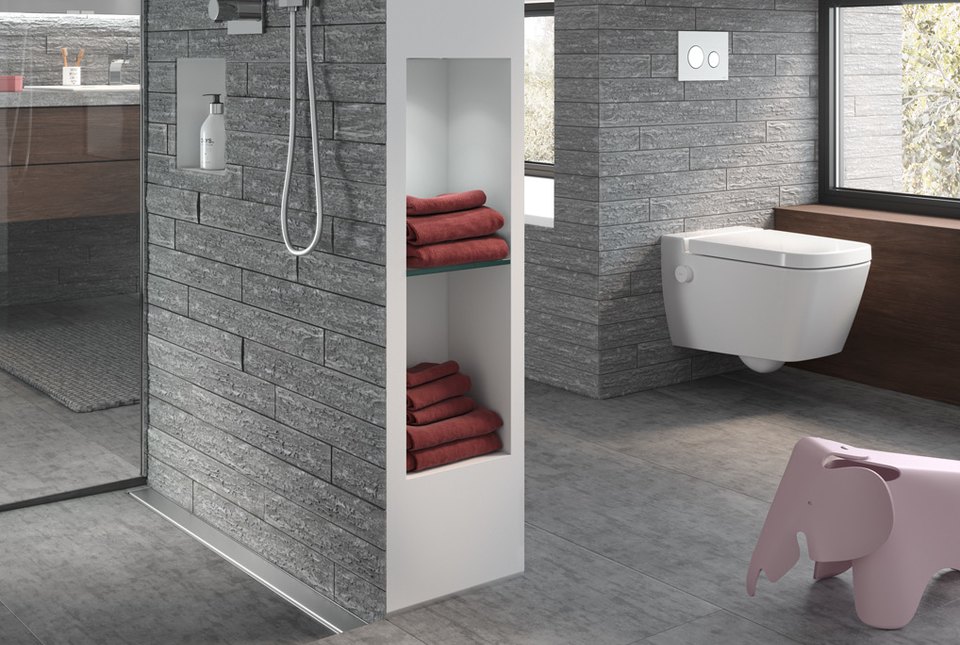 Design & Creation
Space & Architecture
Re-thinking the bathroom.
Thinking holistically for complete solutions
Convincing architecture is consistent from the overall design right down to the smallest detail.
In the bathroom and sanitary areas, TECE supports this approach with its consistent product philosophy: modular, compatible, full of variance in terms of surfaces and materials.
Ideas are expressed freely both outside and inside.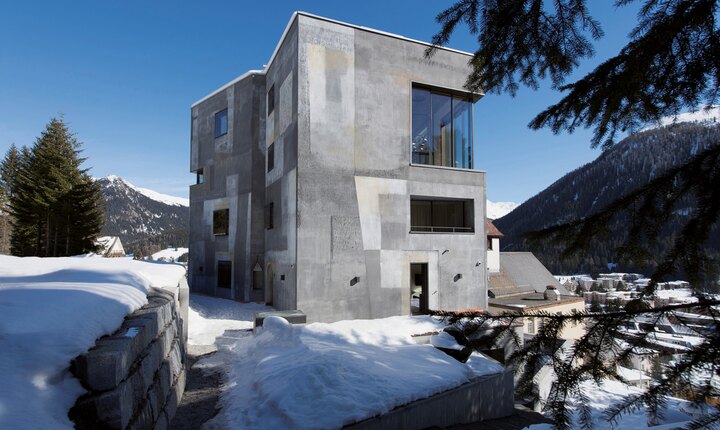 Drainline
TECEdrainline shower channels form the interface between architecture and housing technology:
They strip function and design right down to the essentials, freeing the bathroom from its limitations.
The result: a uniform, limitation-free floor and space design – for real living spaces.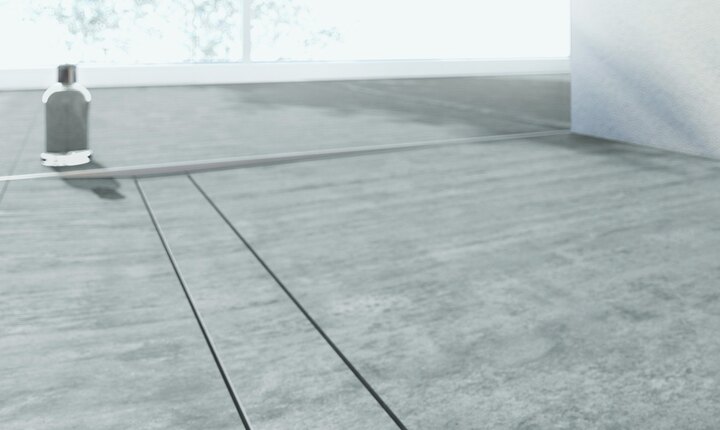 Bathrooms without barriers.
Totally new bathroom layouts can be designed thanks to our pre-wall systems. The use of pre-wall elements allows for customised interior design as they mean that predetermined installations or housing technology no longer have to be strictly followed. The layout of main usage areas such as the wash area, toilet, bath or shower can be completely rethought and re-structured.
Customised possibilities
New builds or renovations: Through the interaction of wall sections, sanitary systems and shower channels, smaller rooms can also be supplied with all the mod cons and be made to look larger.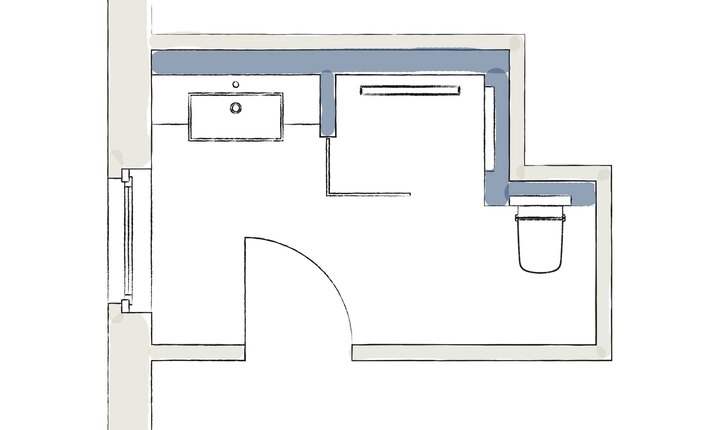 On eight square metres of space, very different bathroom scenarios can also be dreamed up, each of them fully tailored to the customer's individual requirements.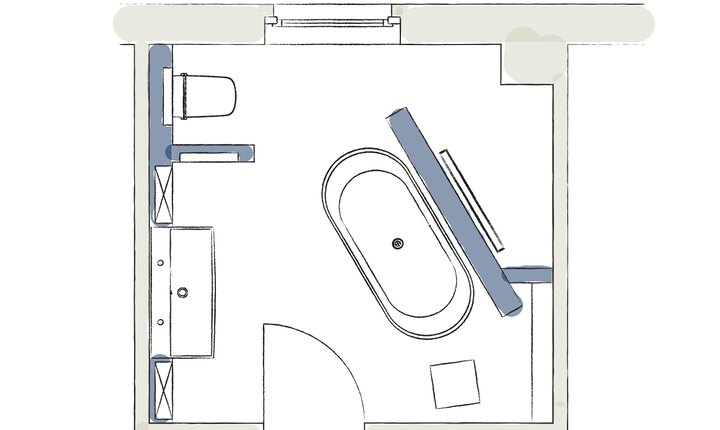 It does not always have to be set along the wall: the bath takes up a lot of space in the bathroom. With the aid of a pre-wall system, positioning the bath in the centre of the room no longer poses a problem and leaves plenty of room for a floor-level shower too.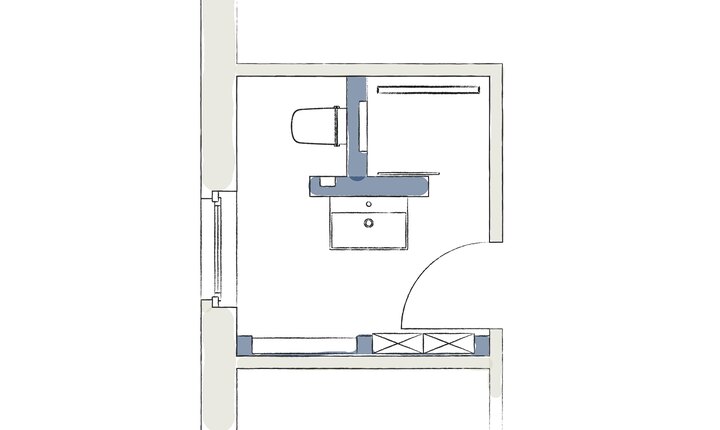 Accessible bathrooms can also be tailor-made. The wash area becomes an element that divides the room, set against a centrally-located pre-wall element. The toilet area is no longer directly visible, and the floor-level shower is visually unobtrusive while enabling maximum freedom of movement.
So simple and so diverse.
TECE pre-wall systems are designed according to a modular principle. Thanks to their modular construction, a wide range of combinations and therefore great diversity can be achieved in the bathroom.
Universal use with systems – made by TECE
All flush plates fit on all cisterns.
All toilet ceramics fit on all modules.
The result: maximum flexibility when planning and implementing
The path to the bath.
From the first sketches to the finished bathroom, the process should be as easy as possible.
A well-thought-out product system facilitates each step when planning the bathroom.
» Today, the requirements for modern bathrooms are much more demanding than just a few years ago. An unobstructed interior design and efficient planning of all the details are extremely important.«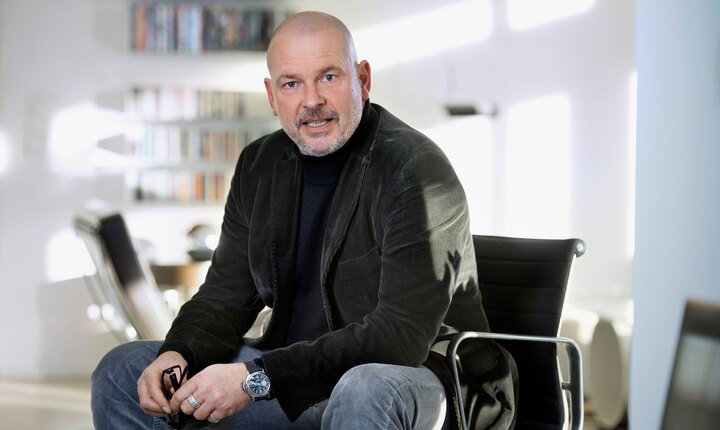 The contemporary bathroom
Contemporary bathroom design does not mean building extraordinary bathrooms. It is far more important to plan and design a room with the long term in mind. The bathroom must be able to adapt to every life situation – freedom from limitations is the keyword here – you never know when you may want to modernise certain elements without having to rip everything o the wall. The size of the bathroom is not important. Above all, everything depends on ensuring efficient use of space.
Simple and efficient designs
The process is assisted by sophisticated products and planning systems which are actually designed to use space intelligently. The shower area provides a good example of a room which can be further developed. Demarcated wet areas can be designed with free-standing pre-wall systems, shower channels enable a continuous and generous space; and easy access also facilitates practical cleaning. In the home, a rented at or a hotel en-suite bathroom.
Finally, a good bathroom design also clearly depends on the choice of colours and materials – i.e. that extra little something that enhances individuality.
In each case, more than ever before, the bathroom is an expression of personality, and increasing requirements demand well-thought-out solutions.
Bathrooms in the housing sector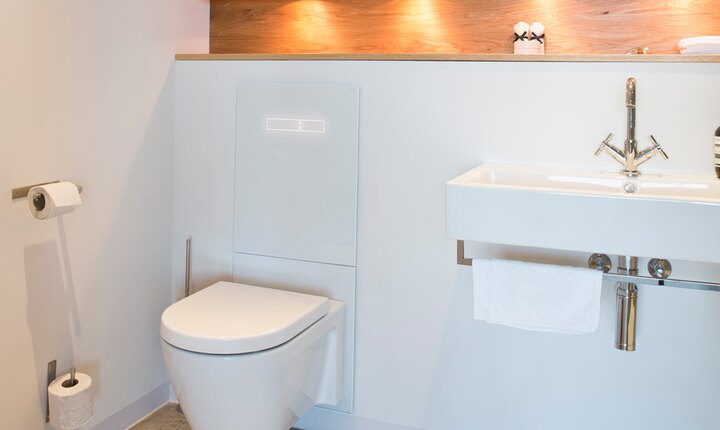 TECE display bathroom for the housing sector
A universal bathroom design not only offers convenience for tenants but also increases the property's overall value. People from all generations feel at home in this type of bathroom.
A bathroom for all generations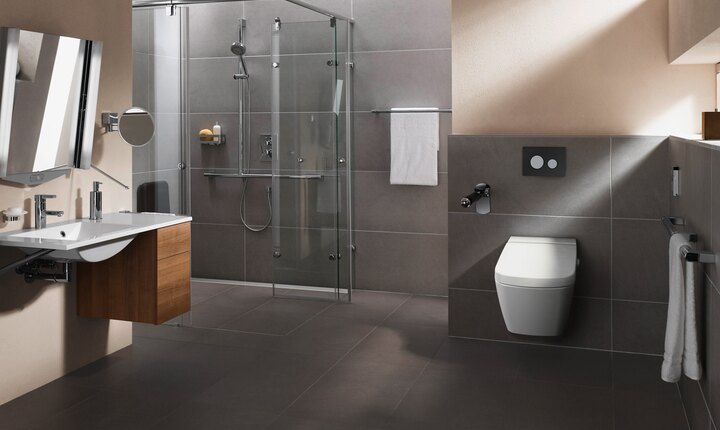 TECE display bathroom demonstrating accessibility
Accessible layouts o er universal value. The associated level of comfort is not a question of age or disability. In the bathroom, easy access for every user offers a pleasant experience for children, adults and senior citizens alike.