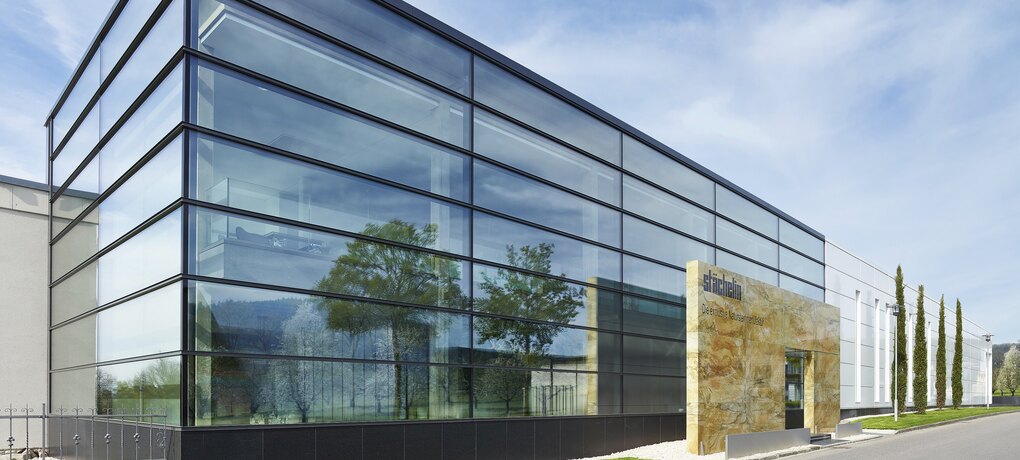 The Stächelin company from Efringen-Kirchen has been working with natural stone for over 50 years and has also mastered this material in the bathroom.
No experimenting with natural stone bathrooms
Natural stone is a unique selling point for every bathroom, because natural stones are always one of a kind. You can hardly get more individual than that. This comes with a price, but customers who appreciate the natural and noble look of marble, granite or quartzite in the bathroom want to underline the living style – the bathroom as a status symbol and business card of the house. Anything that costs a lot should of course also last and look good for a long time. In combination with water, however, natural stone can be problematic. One company that has been working with this material for over 50 years and has mastered its vagaries in the bathroom is the Stächelin company from Efringen-Kirchen.
Granit-Marmorwerk Stächelin GmbH was founded in 1964 and has been managed in the second generation by Uwe Stächelin and his sister Yvette Rathberger-Stächelin since 1999. Today, the company has 25 employees and is located in the district of Lörrach in the border triangle between Germany, France and Switzerland. Some of its well-heeled customers therefore live practically on the company's doorstep: Stächelin often furnishes houses in nearby Switzerland, for example in Basel, Bern or Zurich, with natural stone. A smaller part of its turnover is generated in France, but in Germany, too, more and more value is being placed on elegant living.
"People over 50 who have achieved a lot in life and like to live in a beautiful and high-quality manner often come to us. For them, natural stone is an expression of individuality and elegance," says Uwe Stächelin, characterising his clientele. In addition to bathrooms, the natural stone specialist fits kitchens, living rooms, outdoor facilities, lobbies, swimming pools and stairs with the noble material. The slabs and blocks required for this come from all around the globe. They are either purchased directly in the countries of origin or imported from the main transshipment centres in Verona or Carrara and processed in the company's own high-tech plant. "People who furnish their homes with natural stone expect the highest quality, a perfect finish and their individual wishes to be accommodated. With our team and exceptional production, we can achieve this," explains Stächelin.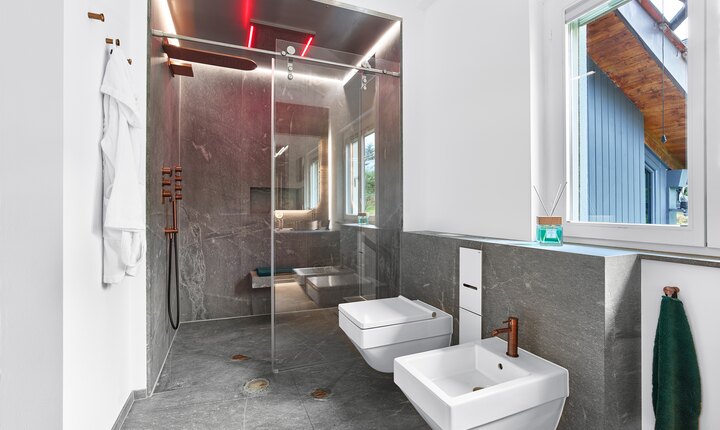 The fascination of natural stone must be experienced
To enable prospective customers to experience the fascination of natural stone up close, the company has invested in a large showroom that is frequented primarily by architects, kitchen planners and end consumers. "With these emotional materials, it is essential to perceive and experience it with all your senses beforehand – this is the only way to create true passion," says Uwe Stächelin. In addition to the earth and time history that the stone visibly conveys, the feel and thermal conductivity of the natural material are important for customers. Especially in the bathroom, a good and safe feeling underfoot is a criterion, as is the stone's ability to store the heat of the underfloor heating over a long period.
Preliminary discussions with customers are also held in the showroom, because consultation and planning are expensive; Stächelin employs a full-time staff member for photo-realistic visualisations alone. "We show prospective customers photographic material or visualisations of existing projects as early as possible, as well as giving a ballpark figure," says the company boss. "Of course, it's easiest for us with customers for whom money is not so much of an object in their project, but even with a smaller budget, a washstand or shower tray made of natural stone is often feasible."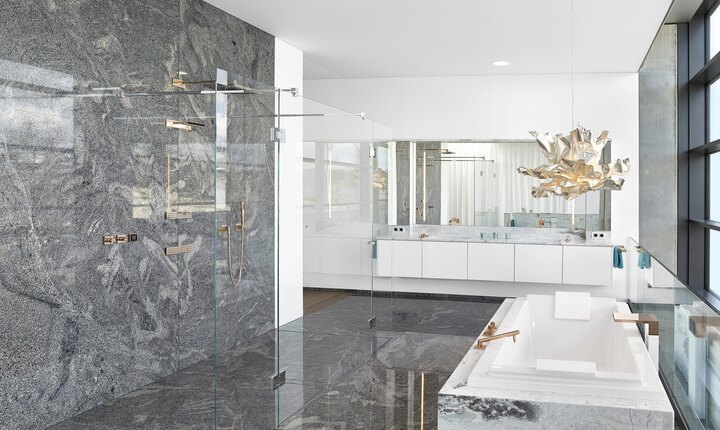 Using natural stone elements discreetly
The company also takes care of the bathroom installation, carrying out all the work itself, from the washstand furniture to the ceiling and the shower glass. In this way, the customer receives everything from a single source, every customer wish is taken into account and the bathroom is implemented at the highest level in terms of quality and aesthetics. Stächelin is convinced, however, that in a natural stone bathroom less is actually more: "I recommend using natural stone for the floor, a shower tray and a maximum of one wall in order to achieve a reduced aesthetic. The smaller the room, the more subtle the natural stone elements should be." Since stone can have a very dominant effect, a bathroom can otherwise soon appear overloaded or ostentatious. According to Stächelin it is better to rely on targeted effects, such as a backlit marble wall in front of which a free-standing bathtub is installed.
Integration into natural stone architecture
Where natural stone is used, a flawless, continuous look is particularly important. The large-format slabs are usually cut from a block so that the colour and individual grain match perfectly. As far as possible, functional elements such as a shower channel or a flush plate on the toilet should not impair the overall impression and should disappear almost invisibly and flush with the elegant surface.
Stächelin therefore uses the TECEdrainline natural stone shower channel as well as special versions of the TECEloop and TECEsquare flush plates - both shower channel and flush plate from the Emsdetten-based domestic technology specialist TECE can be covered with natural stone on site in Efringen-Kirchen. "For me, the Loop is the most beautiful flush plate on the market. With a natural stone surface and installed flush with the surface, it is hardly visible and it retains the character of the natural stone wall," enthuses the professional.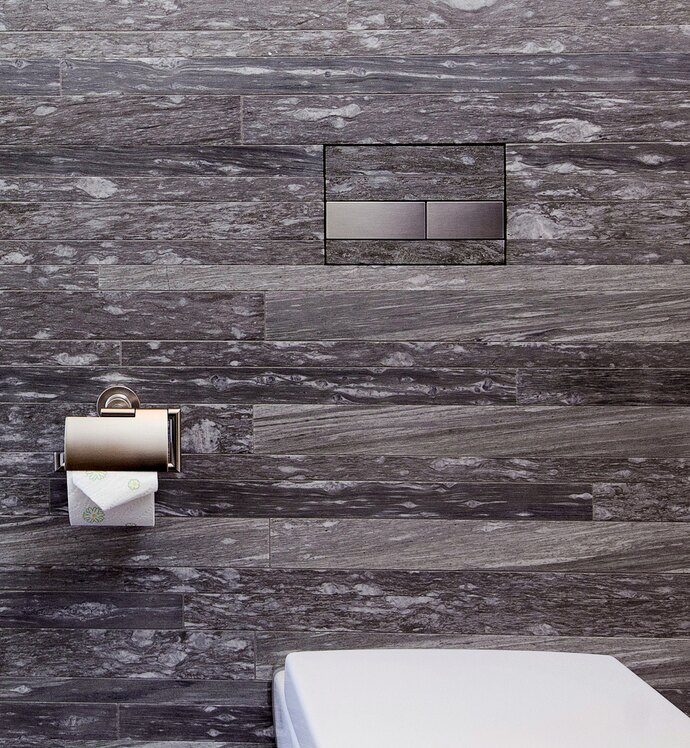 Only good experiences with TECE systems
The same applies to the shower channel, which TECE has developed especially for natural stone bathrooms. If it is tiled with natural stone, only a narrow, rectangular gap of six to eight millimetres is visible in the floor area of the shower, through which the water runs off into the floor almost as if by magic. Uwe Stächelin finds it particularly practical that the TECE solution does not attach directly to the wall, but leaves up to 15 cm of space. This provides enough leeway for large-format and thick natural stone tiles to be installed and sealed.
The natural stone expert explains: "We have already fitted over 150 bathrooms with the Drainline and haven't had a single problem with this solution. We have tried systems from other manufacturers, but have already had bad experiences with them – in one case, we even had to re-point the shower area completely because the product chosen by the customer didn't keep the water away from the natural stone wall."
Responsibility lies with the installer
If natural stone draws water, it can result in ugly discolouration and stains. For the bathroom, this is usually an expensive total loss, because the natural stone slabs can only be replaced as a composite, as each block of stone has an individual grain and colour. This is a no-go, because the customer has paid a lot of money for the special aesthetics. For the same reason, it is essential to ensure that no moisture can rise from the substrate into the fine capillaries of the natural stone. A composite seal is therefore absolutely necessary underneath the adhesive bed.
In the shower area, the Efringen-Kirchen-based company uses a 1-component sealing slurry for this purpose, which can be bonded securely and tightly with the Seal System adhesive tape from the TECEdrainline. Uwe Stächelin confirms: "We work exclusively with the TECE system, because it is very easy to process and is one hundred percent leak-proof – and since the responsibility lies with us as the installer, we can't afford to be experimenting!"