TECEfloor SLQ Actuator - easier assembly and maintenance
In order to facilitate installation and maintenance of the heating system, the TECEfloor actuator has been consistently further developed. The new thermal actuators are opened currentless in the delivery state thanks to the First-Open function. This means that installation on the return valves in the heating manifold is quicker and requires less effort. Another advantage is that the system can be commissioned during the shell construction phase without electrical wiring. In case of service, the re-open function allows the control valve to be manually opened in a de-energised state. Compared to the previous models, the new TECEfloor actuators have a 20 % lower power consumption and therefore save energy. They are available as 230 V or 24 V versions. Thanks to the IP 54 protection class, they can be mounted 360° in any position, i.e. also "overhead".
The new TECEfloor SLQ 230 V and 24 V actuators will be available from April 2022.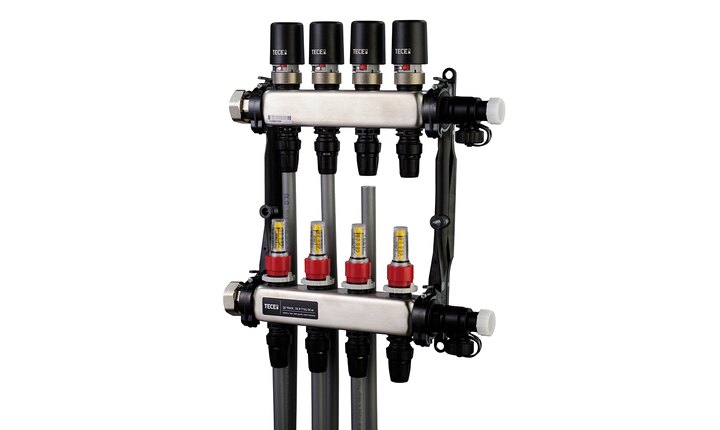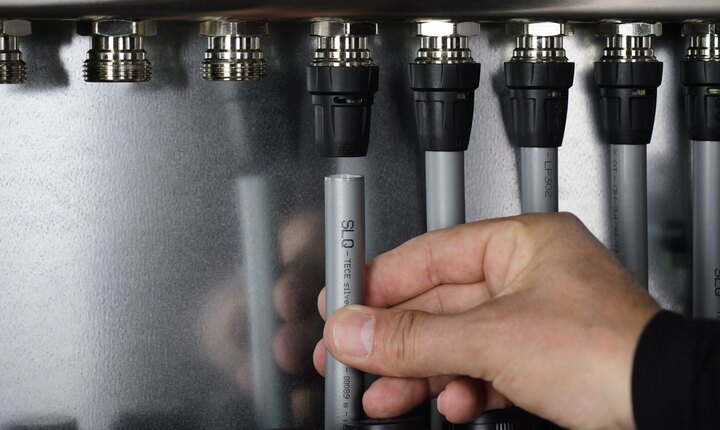 Efficient and economical: Pre-assembled push-in fittings allow quick and twist-free connections. A special spanner can be used to undo the plug-in connection at a later date, and the fitting can then be used again.
Highlights of the product
Swirl-free push-in connection with TECElogo-Push connections
Sight glasses can be replaced under system pressure, presettings are retained
Each manifold is 100 % tested for tightness and function
Version with TECElogo-Push or Eurocone connection
For every requirement
From small areas to industrial space heating -
TECEfloor heating manifolds distribute heat reliably.
With the extra comfort for installer and customer.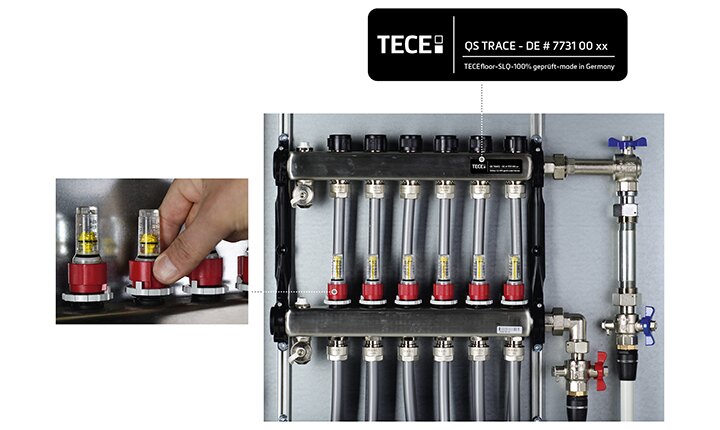 At a glance
Thanks to the QS code, the distributor can be precisely identified even years later, for example for ordering spare parts.
In the twinkling of an eye
The integrated flow regulation makes setting the calculated volume flow simple, fast and safe.
Equipped for big tasks: the TECEfloor heating manifold made of stainless steel
The particularly large chamber volume of the TECEfloor stainless steel heating manifolds ensures extremely low pressure losses, so that these manifolds can also be used for many industrial heating surfaces with 20 mm pipes.
Modularly expandable: the TECEfloor heating manifold made of plastic
2x, 3x - it's simple! The SLQ plastic heating manifold consists of a base module and one or more 2-way or 3-way connection modules with integrated valve technology. The modules are simply connected with two turns and combined as desired - up to a 12-way distributor. This simplifies storage and increases flexibility on site: If an additional heating circuit is required, two 2-way modules are simply used instead of one 3-way module.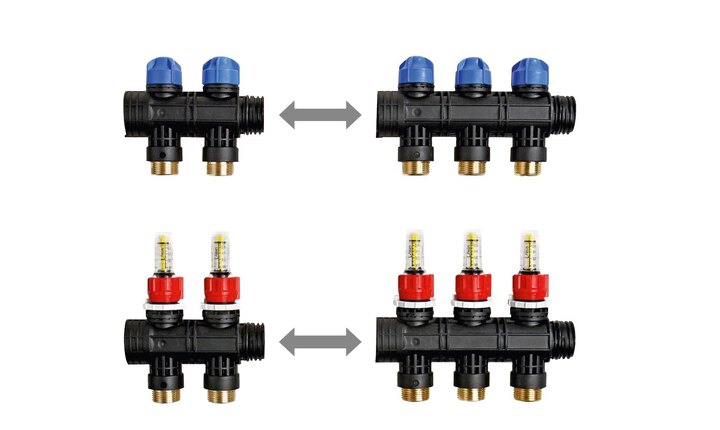 Consistently reliable: the TECEfloor fixed value control system
The TECEfloor fixed value control ensures a constant room temperature. Return valve and balance valve enable hydraulic balancing with the adjoining heat distribution system. The special design of the pump chamber prevents rotor blockages due to deposits, for example after long downtimes.