Attractive RTL box – Temperature controller in real glass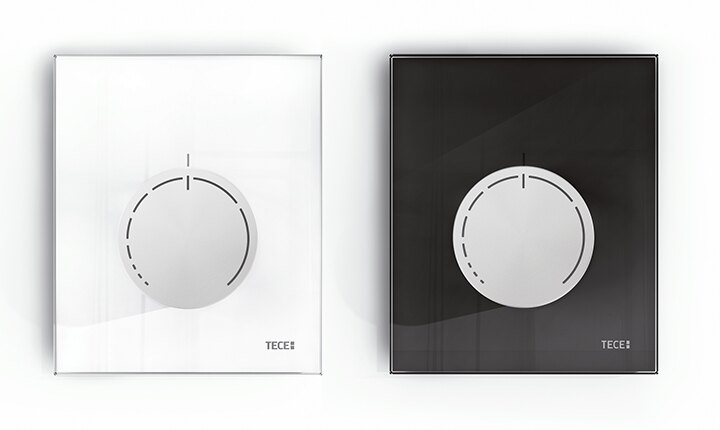 TECEfloor Design RTL Box bare-wall and fine installation set
Fine installation set consists of:
High-quality cover plate design made of real glass
Thermostat head made of anodised aluminium
Plastic mounting frame
Mounting plate for depth adjustment
Dimensions of the cover plate 104 x 124 x 7 mm (W x H x D)
Bare-wall set consists of:
Wall-mounting box with presettable control valve, presettable RTL valve and thermostat valve
Bare-wall protection and 3/4" Eurocone connection adapter
Installation depth: 65–90 mm
With the new RTL Box, TECE launches a visually pleasing floor heating regulator with a real glass cover and an attractive aluminium dial. Thanks to its attractive design and compact dimensions, the box doesn't need to be hidden and can be installed in a user-friendly way at light switch height.
Conventional return temperature limiters (RTLs) are primarily purpose-designed. When developing the product, the design is often too short. Consequently, the RTLs are often placed at ground level, if possible in a concealed way, which does not exactly facilitate user-friendliness. TECE takes a different approach with the TECEfloor RTL Box, which looks really good! The seven-millimetre flat real glass cover is available in a choice of black or white.
Real glass surface with ceramic screen printing
Bevelled and polished edges
Dimensions only 10 x 12 cm approx.
Only protrudes 2.5 cm into the room
Thermostat head made of anodised aluminium
Inlet and return flow exchangeable
Perfect fit: TECEfloor RTL box
The thermostat dial made of anodised aluminium lends a high-quality look and feel. At a compact size of 104 x 124 millimetres, the box is up to 60 percent smaller than most competitors' products.
In practice, it often occurs with conventional RTL boxes that the thermostat dial protrudes a long way out of the wall, depending on the wall layout. TECE has developed a mounting plate with a special depth adjustment system, which always provides a consistent appearance - in all rooms, on every wall.
The box can also be positioned at the usual light switch height. This avoids inconvenient operation involving stooping down to floor level.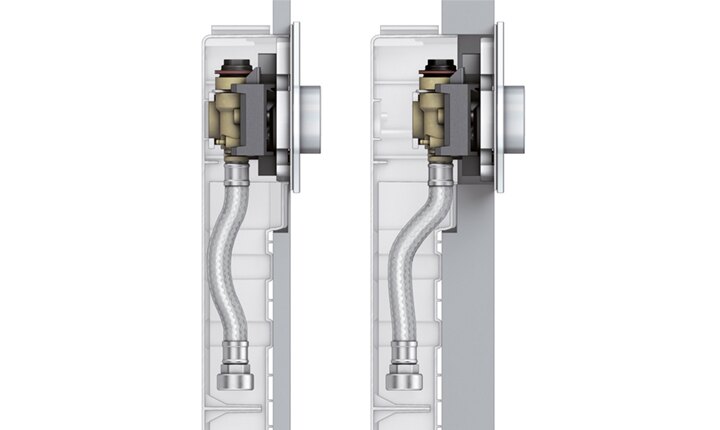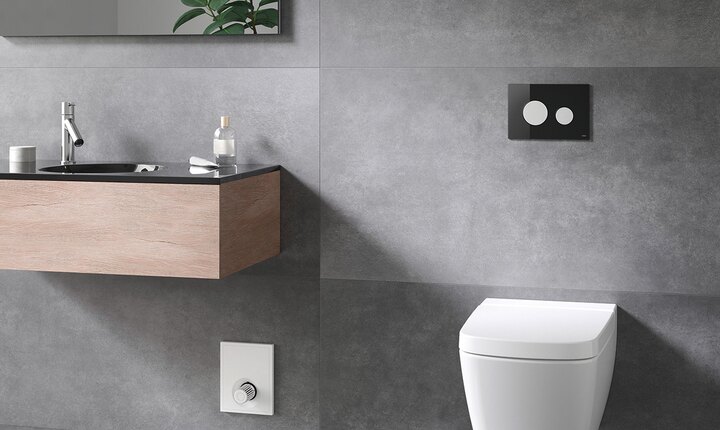 Conventional return temperature limiters tend to crawl at around floor level. In addition to inconvenient operation, this location is also unfavourable from a technical point of view because the temperature sensor is located close to the source of heat.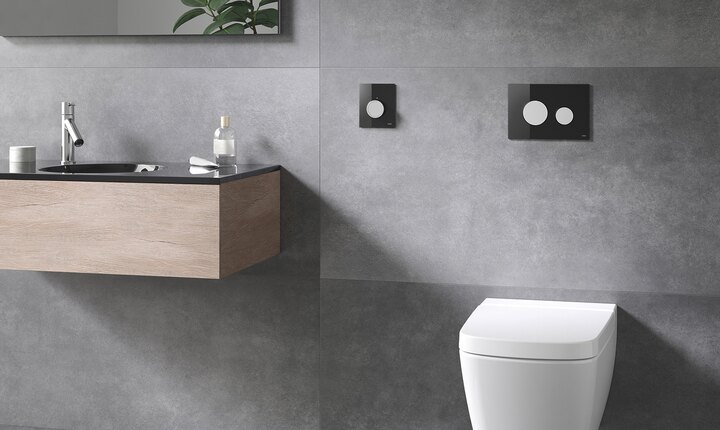 The TECEfloor Design RTL Box can be easily installed and neatly aligned at light switch height thanks to intelligent mounting technology. 
Glass along the wall: TECEfloor wall thermostat
Thanks to its high-quality glass surface the TECEfloor design thermostat even looks good in a modern, architecturally-challenging environment. With an outer diameter of 104 mm, the thermostat is recognised as a discrete design element and also perfectly covers the flush-mounted sockets of standard thermostats in the event of replacement.
Efficient individual room control
Circular room thermostat with minimalist design
The real glass cover is available in different colours
Highly creative design in comparison to conventional thermostats
Blends perfectly with the TECElux and TECEloop design series