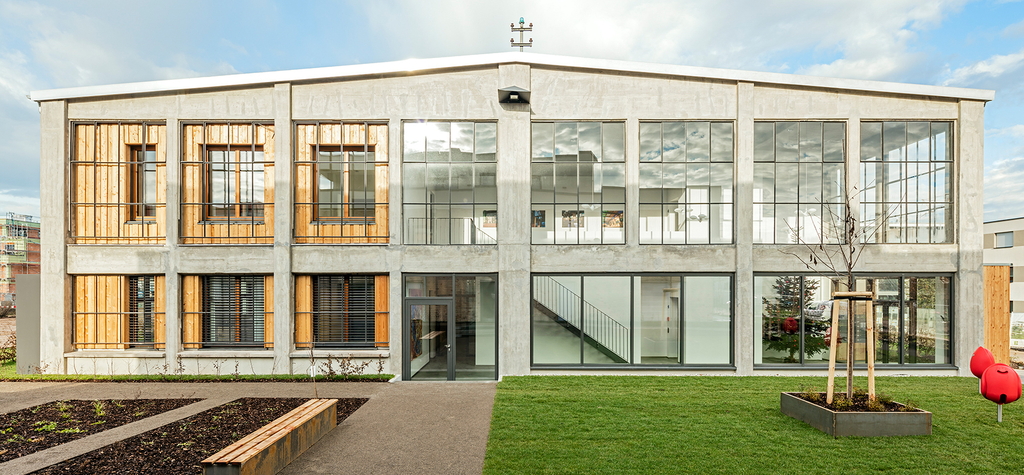 Germany

, Landau
Unusual "house in a house" principle brings new life
"The Panzerhalle was king class." That's what architect René F. Krüger says about a reference with an extraordinary back story: a disused Panzerhalle from the darkest period of German history. Vacant for 25 years. A ruinous condition.
Old tank hall in Landau an attractive home after refurbishment
The city of Landau in der Pfalz, the investor Bösherz Immobilien and the Karlsruhe-based firm Krüger Architektur have proven that an attractive home with high residential value can nevertheless be developed from this. Using the "house within a house" principle, they have converted the former tank hall in Landau on a former barracks site into high-quality living space.
"House in house" principle with modular boxes
On the floor space of 48 x 24 metres and a storey height of nine metres, 15 flats are integrated. In the competition design, the architect developed a "house within a house" concept with inserted modular boxes.
The maisonettes, ranging in size from 78 to 126 square metres, stand out from the existing buildings with a larch wood façade in the form of a floor-to-ceiling cladding.
The windows are also made of high-quality wood, and their triple glazing complies with the KfW standard. The glass panes of the large-format hall windows were not reused.
With its new single glazing of laminated safety glass in the original steel frames, the foyer area comes closest to the original appearance. The steel doors along the long sides were welded in the open position and painted anthracite. Authentic, untreated materials also characterise the interiors. Exposed concrete elements of the existing building are complemented by screed floors and black steel stairs. In the bathrooms, large-format tiles, flush-floor glazed showers and modern ceramic elements reflect the desire for high-quality fittings.
In the technical fittings, attention was paid to clear separation of functions and flexibility. TECEprofil walls with flushing technology and the corresponding washbasin modules were used for the bathrooms. The system of supporting structure and matching sanitary modules offers great freedom of design and thus supports the basic conceptual idea of the architectural design to work with flexible solutions.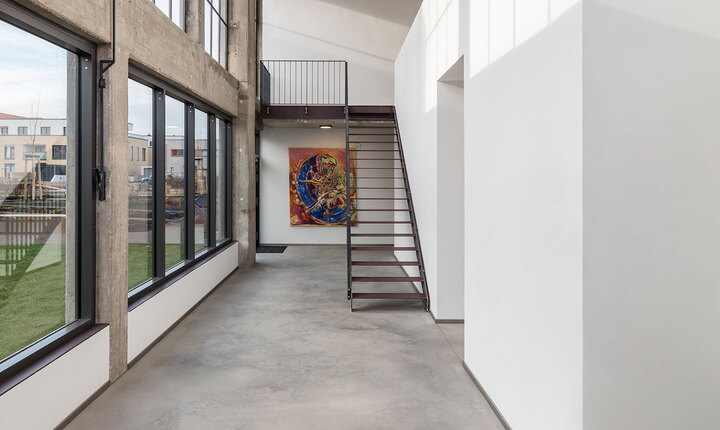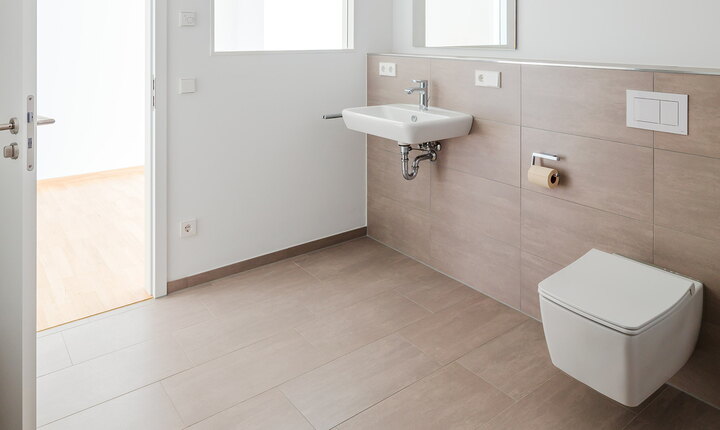 Pipework can be drawn in the pre-walls and the entire installation technology finds its place. All that remains visible are the simply elegant flush plates from the TECEnow range in glossy white, which complete the clear design language of the building complex. The TECEnow convinced the client with its precise geometric design, which adapts wonderfully to the angular basic structure of the building, and the high quality of workmanship.
The large flush-buttons sit in a wide rectangle, the entire element is only five millimetres thick and can also be mounted flush with the surface with an additional frame if desired. The toilet module and panels can be combined with each other as desired in the TECE range and installed in just a few steps without tools.