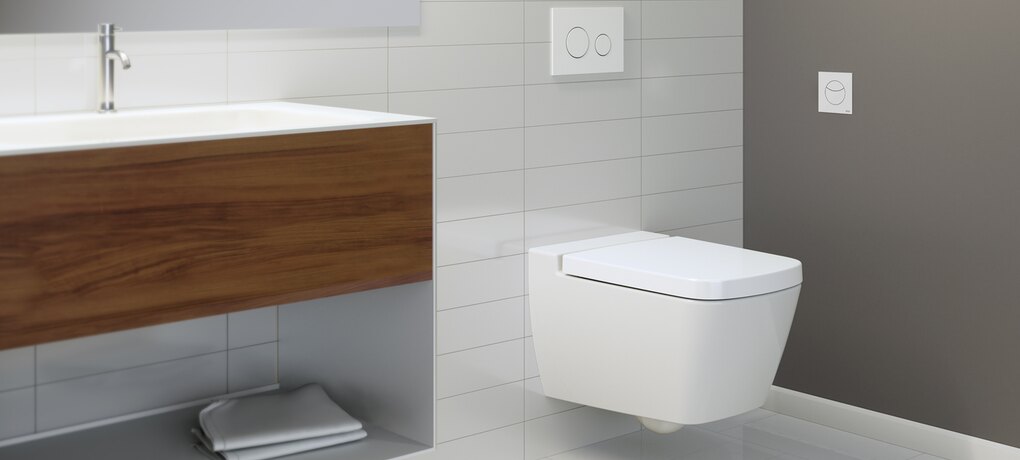 TECEflushpoint can be placed anywhere within 1.70 m of the cistern.
TECEflushpoint: Toilet remote control for more flushing comfort
With the new TECEflushpoint pneumatic toilet remote control, bathroom owners can decide for themselves which position of the flush actuation is the most convenient for them: TECEflushpoint can be positioned freely around the cistern within an operating radius of 1.70 metres. Installation also offers convenience: the actuator is placed on the waste valve with just one click - and that's it.
Depending on the situation or preference in terms of comfort, there are different needs when it comes to triggering the toilet flush: For people with limited mobility, for example, it can be more practical and convenient if the toilet actuator is located on the side of the wall and not directly in front of the cistern as usual. For precisely such cases, the Emsdetten-based sanitary technology brand TECE is now supplementing its extensive flush technology range with TECEflushpoint, a toilet remote control that can be used on any TECE universal cistern.
Actuation by means of TECEflushpoint works purely pneumatically, so no electricity is required at the toilet. The actuator is placed on the waste valve with just one click and is connected to the pneumatic hoses coming from the push-button. No other modifications are necessary in the cistern. The actuator can be freely placed within a radius of action of 1.70 m and can be installed in solid and drywalls as well as in furniture.
Not only the simple installation technology, but also the design and feel are at a high level, as is typical for TECE. Thanks to its purist design, the second release on the toilet does not look like a foreign body, but blends into the bathroom ambience in a visually discreet way. The remote control with dual flush technology is available with either a round or square cover in white, polished chrome or matt chrome. TECEflushpoint is available in white and with a square cover for single-flush technology. The covers are available separately.