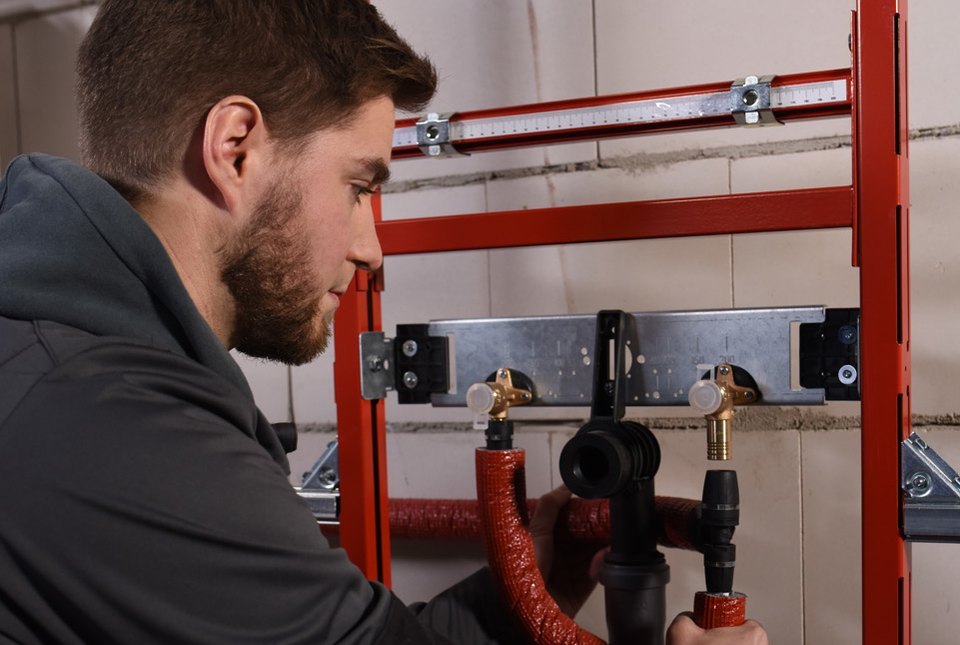 Installation & Assembly
Well-Thought-Out Products
Keeping your mind free for more important matters.
Out of the Box. Set. Go.
Pre-assembled products are immediately ready for use.
This is what TECE means by "Ready to install".

This approach saves time and hassle – and avoids errors.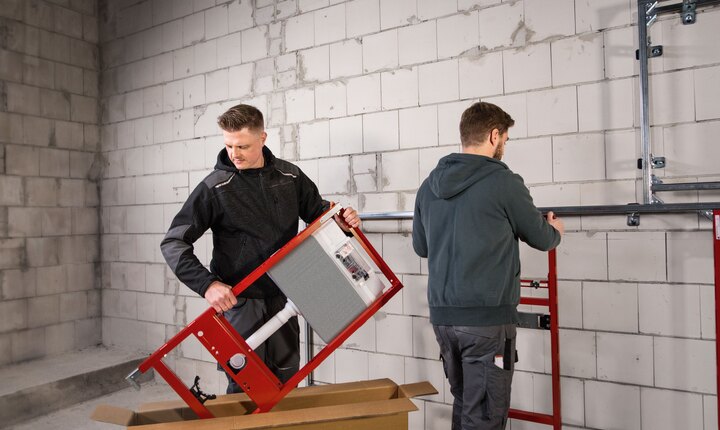 Reach your goal safely, meeting your target quickly
The seal of safety
The cistern remains sealed until the fine installation phase.
Corner valves, reinforced hoses and ll valves on cisterns are pre-assembled and tested. During the structural work, the sealed cistern does not need to be opened.
This saves time and the cistern's functional fitness is not impaired by impurities in the tank.
Faster thanks to a foot brake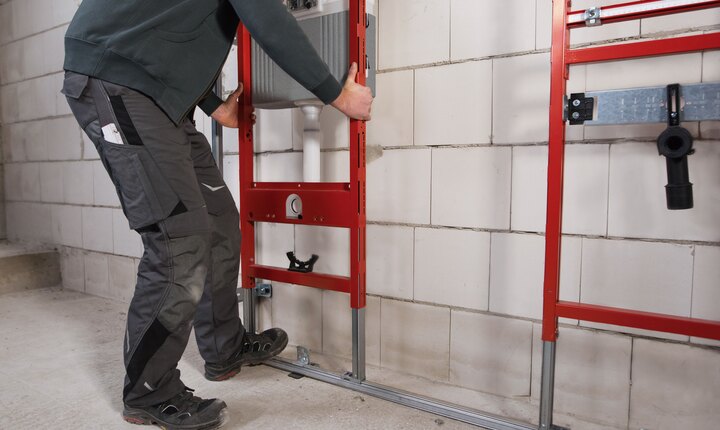 The foot brake facilitates handling.
The foot brake developed by TECE enables straightforward and time-saving assembly by just one person. The TECEprofil module can be pulled up to the correct installation height with little force. In the process, the foot brake prevents the module from slipping backwards.
Each part fits together.
TECE products t together perfectly, both in technical terms and as regards design. They can be universally combined within the same range and are compatible with other products from the sanitary sector.
Universal use with systems – made by TECE
All flush plates fit on all cisterns.
All toilet ceramics fit on all modules.
The result: maximum flexibility when planning and implementing
Less is more.
A good modular system has very few components. That means easy handling, fast installation, low storage costs – and multiple solutions.
Three times as simple
With just three basic TECEprofil components, a complete supporting structure can be set up in the shortest time scales. Three simple components – the TECEprofil corner joint, section tube and wall mounting bracket – help to achieve a stable pre-wall construction.
An Allen key is all that is needed to secure the connection. The connection can be loosened again with the Allen key at a later stage.
Diversity in installation
The TECEdrainline shower channel offers many possibilities during installation. Regardless of the position, installation height, length or design, TECE shower channels meet every requirement thanks to their modular design.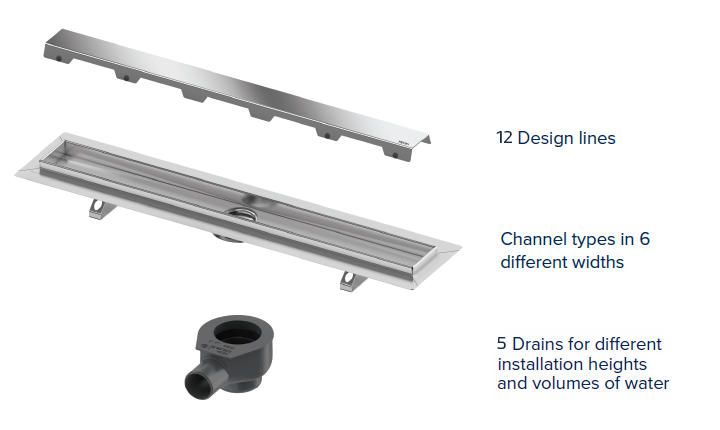 TECEprofil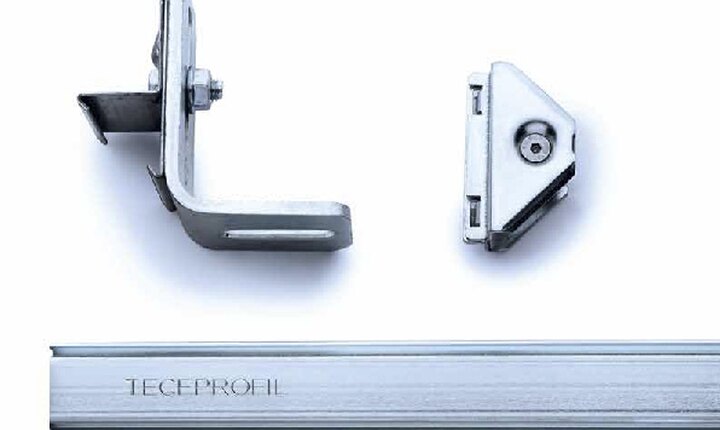 Set up in the shortest time scales with just three components: TECEprofil – the stable pre-wall system for bathrooms
TECE pre-wall system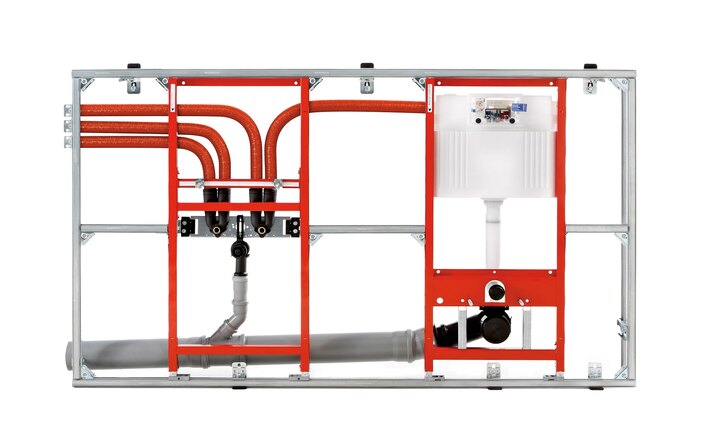 Optimisation of construction processes: It always fits - the TECE pre-wall system
User-friendly, day after day.
Day after day, TECE sanitary installation systems distinguish themselves through their excellent, user-friendly design.
They offer a high level of design, convenience, safety and efficiency.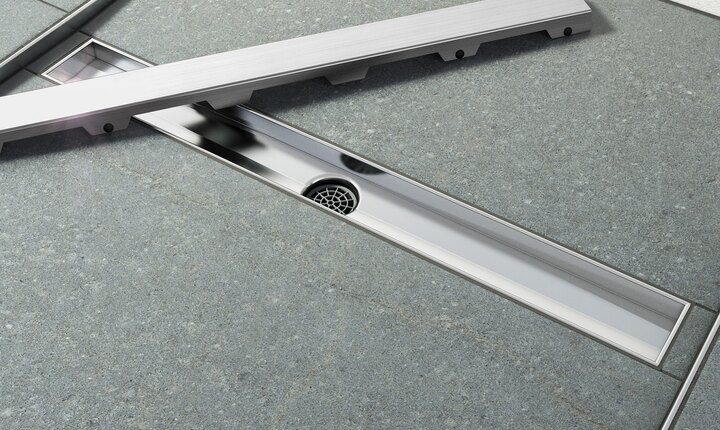 Cisterns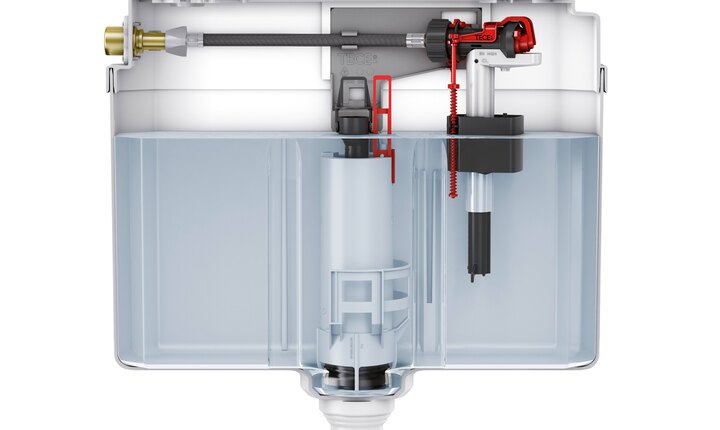 More volume, less consumption – the TECE cistern
TECE cisterns have an extra large 10-litre safety tank. This means that an immediate clean flush is no longer a problem. Flush volumes can be set according to requirements – water-saving and highly effective. Particularly old or narrow pipes, or pipes that are too at can only be rinsed properly with large volumes of water. Another important detail is the exceptionally low-noise ll valve and the possibility of combining the system with any TECE flush plate.
Cisterns: an overview
Cisterns with 10-litre volumes for an immediate clean flush
WELL-LABEL: 4-star rating
Extra low-noise filling valve
Drainline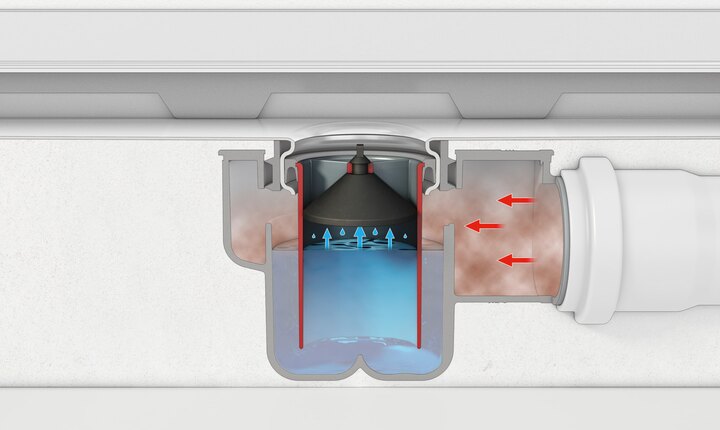 No more unpleasant odours – the membrane odour trap
TECEdrainline shower channels have proven their reliability millions of times over. Thanks to the perfected design, the internal area is quick and easy to clean, enabling optimum hygiene. On request, TECE shower channels can be equipped with a membrane odour trap especially for use in bathrooms which are not often used. This eliminates unpleasant odours and means that unwanted vermin don't stand a chance.