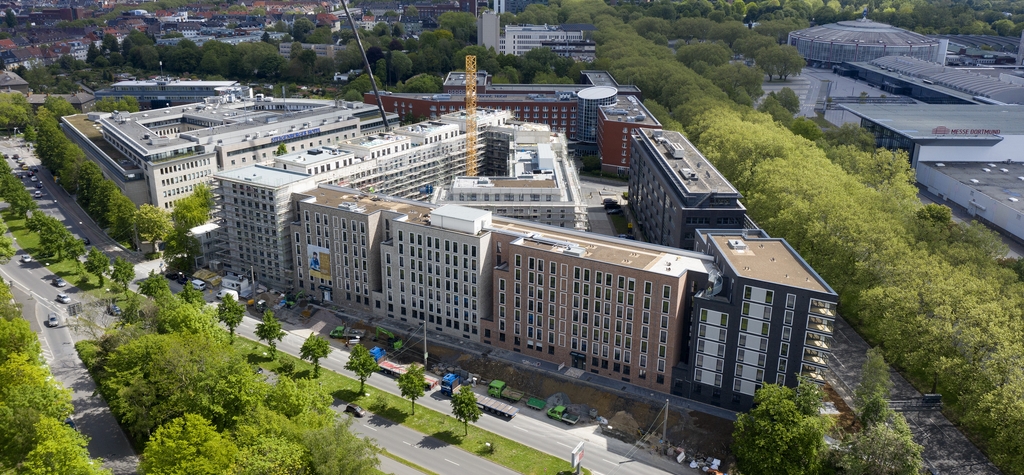 Germany

, Dortmund
Berswordt Carree
The Berswordt Carree is currently the largest construction project and single project in new residential construction in Dortmund. On the approximately 10,900 square metre site, 365 micro-apartments for students and 222 high-quality rental flats are being built. In order to save time and avoid delays, industrially prefabricated TECEsystem sanitary walls were used in sections during the construction of this mammoth project.
Since the floor plans of the flats are individually designed, the bathrooms were made with conventional pre-wall technology. A total of 311 toilet and washbasin modules were used here. TECEflex plastic pipes were used for the entire drinking water installation. The reliable TECEflex sliding sleeve system does not require O-rings, which makes it particularly safe to use and also easy to process.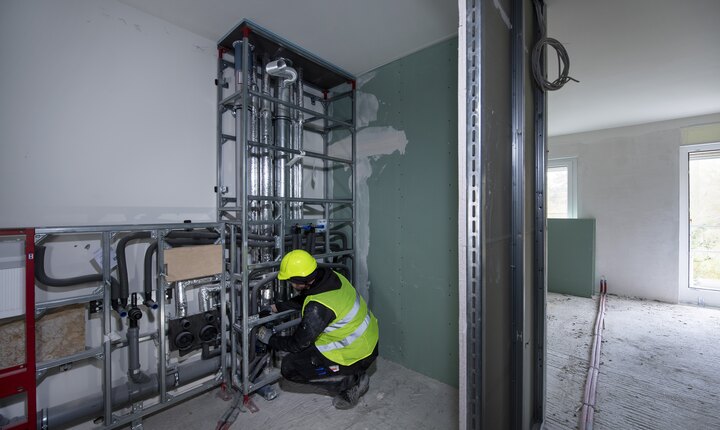 In contrast to the flats, the micro-apartments are all uniformly divided. For this reason, the planning office of the Daume company decided to design this section of the building with industrially prefabricated TECEsystem sanitary walls, whereas the bathrooms of the flats were built conventionally.
The dimensions of the prefabricated units are specially adapted to the bathrooms of the flats and are prefabricated ex works for the areas of drinking water, heating, waste water and ventilation. Accompanying the project from the planning stage onwards, the Daume company was assisted by Anton Delorme from the TECE application engineer as part of the TECEsystem package: "In a large project with many identical bathrooms, industrial prefabrication provides security in terms of time and costs. And the quality of workmanship is of a uniformly high industrial standard."
Close project support from TECE
The close cooperation between TECE and Daume began with the exploratory phase of the TECEsystem process, in which the individual requirements for the sanitary walls were determined. The current fire and sound insulation standards and compliance with drinking water hygiene were already taken into account, which also increased planning reliability.
After the pipe network plans and the production drawings of all sanitary walls for each bathroom were created, an exact delivery schedule was determined. It contains the respective call-off quantities for just-in-time delivery of the prefabricated units to the construction site. Only after this detailed planning did TECE start the industrial production in the factory.