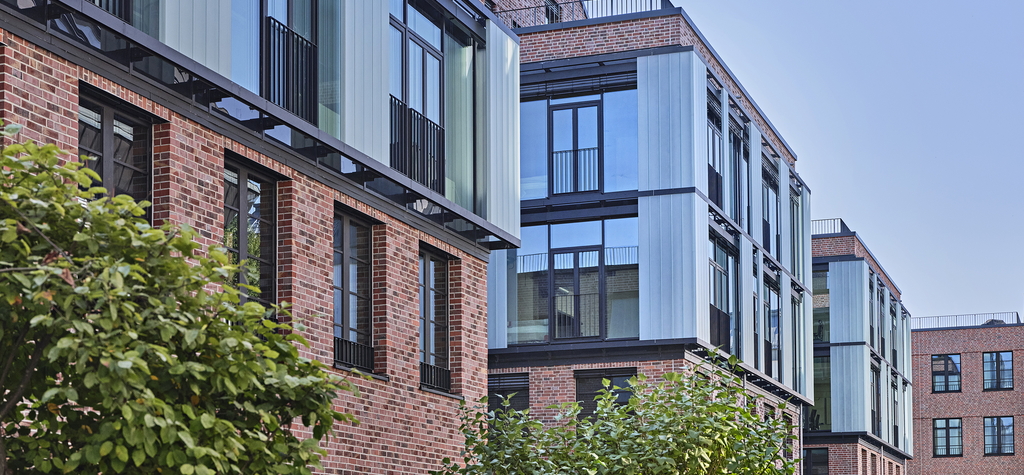 Germany

, München
Between industrial history and information society
Brick shimmering in red tones and large-format windows in black steel frames evoke associations with historic industrial architecture, while fields of floor-to-ceiling profiled glass tell of digital working worlds. Inside the "New Eastside Munich," exposed concrete and blackened steel create an atmosphere more reminiscent of studios than an office building: The materials show that the new building, which Oliv-Architekten completed in Munich's east, draws its identity from contrasts. The new building replaces an old hydraulics factory. The fact that it has already received the globally renowned LEED certification (Leadership in Energy and Environmental Design) in the Gold category underlines its high sustainability character.
Modular design for modern work
The building is based on an open double comb structure. By modifying the northern building head and staggering back individual building fingers in height, the 130-meter-long volume fits perfectly into its urban environment. 
The almost 15-meter-deep building fingers allow for large-scale work areas. Three cores with elevators and staircases are arranged in the connectors between the office fingers and, together with two more at the ends of the building, form the vertical circulation. This creates a modular structure of maximum flexibility.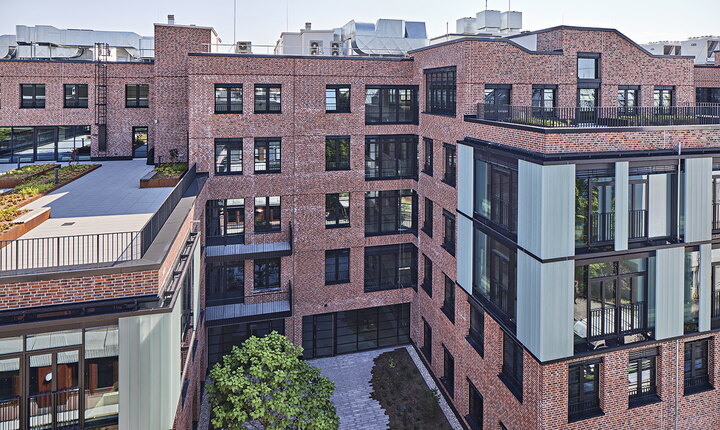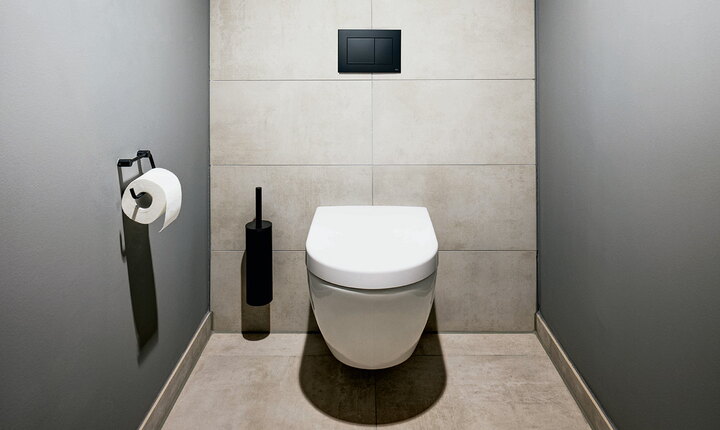 Nine WC cores are assigned to the smallest possible units. Prefabricated and fully piped sanitary walls and shafts are used, which fully exploit their advantages in terms of planning and installation reliability, precision and quality. The size and complexity of the building had suggested the early planning of prefabricated system walls. Once TECEsystem had been selected, the modules were incorporated into the design planning and also taken into account in the detailed planning.
A considerable simplification resulted from the fact that the sanitary registers were delivered to the construction site just in time and lifted into place floor by floor by crane using unloading aids. Only then were the ceilings above closed. This measure alone saved an enormous amount of time, because the modules did not have to be carried individually across the entire construction site.
Only two workers were needed on site to align the sanitary walls and shafts, fix them to the building structure and connect the pipelines. TECE components also showed their flexibility in view of the partly large room heights. The installation walls on the first floor, which were over 3.50 meters high, were free-standing.
Prefabrication and system construction enable simplification of construction
Well thought-out functionality and high manufacturing quality also characterize the components visible in the finished bathroom. Because of well-known reliability, defined pressure points and, last but not least, the timeless design with high-quality surfaces and precise edges, the TECEnow line was selected for all toilet actuator plates; the TECEfilo actuator plates in black glass and integrated urinal electronics complete the elegant picture.