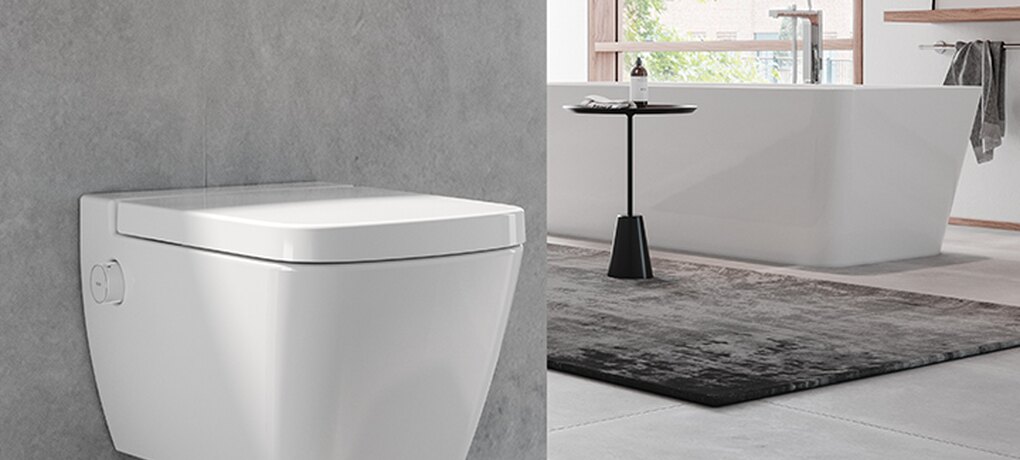 TECEone - shower toilet for cold water connection
Pure shower toilet freshness
TECEone
With a new shower toilet for cold water connection, TECE is appealing to shower toilet purists who want to benefit from the health advantages of  leaning with fresh, cold water from the tap. This completes the TECEone toilet family and allows flats and buildings to be fitted out in one design and  with different levels of furnishing.
Many cultures prefer water to toilet paper, as water is far superior to the cleaning effect of paper. All the more so when proctological complaints or sensitive skin require gentle, thorough care. In these cases, doctors usually recommend cleaning with cold water fresh from the tap, as it has a beneficial effect on blood circulation and irritated skin areas.
But the new TECEone is also an option when it is not possible for a hot water line to be connected to the toilet – for example, in bathroom renovations on a small budget or in guest bathrooms. This is because it can be retrofitted to any cistern without the need for an additional hot water line.
Like all TECEone models, it comes in installation-friendly packaging, which serves as a back-friendly transport aid and spacer. The ceramic can be installed effortlessly using the tried-and-tested TECE fastening technology. Due to the system, there are no small components or screws that might fall inside during installation, and the necessary tools can be found on every construction site.
Three toilets, one DNA
As TECEone is designed as a family of toilets, the new model with cold water shower function is identical to its siblings in many details: the same familiar, rimless design, the wobble- free, pre-adjusted seat, the same technical features, the same ease of installation and maintenance. The subtle difference is only noticeable in the controls on the side.
Like the hot-water model, the cold-water variant draws up to 5 litres of fresh water per minute directly from the pipe and makes it available via the hydraulically extending shower arm. Thanks to the high and soft volume flow, the shower experience is thermally comfortable even with cool water. The water strength is intuitively regulated via the rotary wheel on the side.
You can find more information about the TECEone shower toilet here.