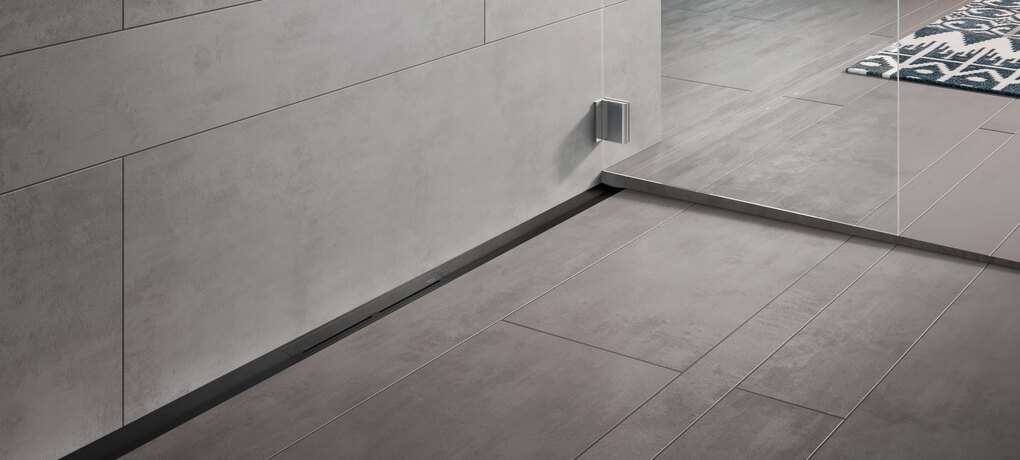 TECEdrainprofile is now also available in "Brushed black". Customers can use this trend colour to great effect throughout the bathroom.
Now also in elegant black
In line with the style update for the flush plates, TECE has now extended the range of TECEdrainprofile shower profiles to include the "Brushed black" version. The new deep black surface of the shower profile now offers perfectly coordinated design options with fittings and flush plates.
The PVD-finished surface is extremely hard-wearing, which is particularly important for the walk-on areas of the shower profile and the increased mechanical loads that can occur here. TECEdrainprofile is also available in the PVD variants Gold Optic, Red Gold and Black Chrome, each with a brushed or polished surface.
TECEdrainprofile up to 1600 mm - showers in 3XL format
There is a demand for oversized floor-level showers in both design bathrooms and barrier-free bathrooms. The 1600 mm TECEdrainprofile meets these demands and as a result supplements the shower profile range in the 800 to 1200 mm length sector. The profiles can be easily shortened with a hand saw for an exact recessed installation. The new product is also fully compatible with the accessories of the extensive TECEdrainprofile modular system. For even larger floor-level showers, we recommend installing several shower profiles.
TECEdrainprofile will be available in "Brushed black" from June 2021.