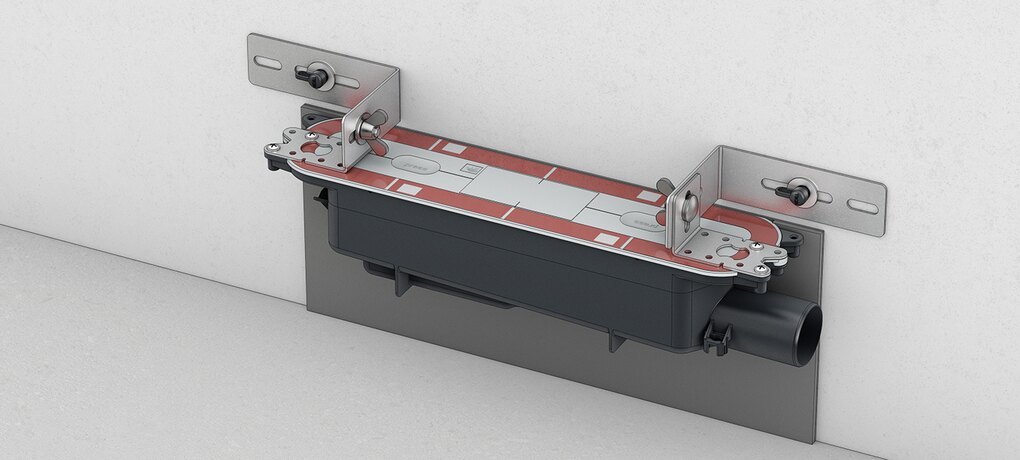 Helpful bracket – TECEdrainprofile: New wall and floor-mounting bracket
Helpful brackets – TECEdrainprofile: New wall and floor-mounting bracket
The shower profile TECEdrainprofile is perfect for niches and can be fitted flush inside them. TECE has developed an installation bracket for this successful product which makes the already simple installation even easier to carry out. The installation bracket makes height adjustment and position fixing on the wall and floor quick and convenient.
Fitters appreciate the shower drainage TECEdrainprofile for the clever product details which simplify installation and can also be used to compensate for structural tolerances. TECE now presents an installation bracket as a separately available accessory that simplifies precise positioning and speeds up construction. The bracket can be used for both wall and floor-mounting; in the case of wall-mounting, it is removed after the screed is laid and can then be re-used; in the case of floor-mounting, it remains in the screed.
The scope of delivery comprises two parts, each of which consists of two brackets screwed to one another. Depending on the arrangement of the brackets, distances of between 0 and 97 millimetres (wall to drain) are possible for wall-mounting and heights of between 95 and 185 millimetres (to upper edge of drain or screed) are possible for floor-mounting. If TECEdrainprofile is installed on the wall, there is no need to cut anything out of the mat for the impact sound insulation, as would be the case for assembly feet. Backfilling the drain with screed is also easier and installation pipes can also be laid under the drain.
The TECEdrainprofile installation bracket is available from June 2020.