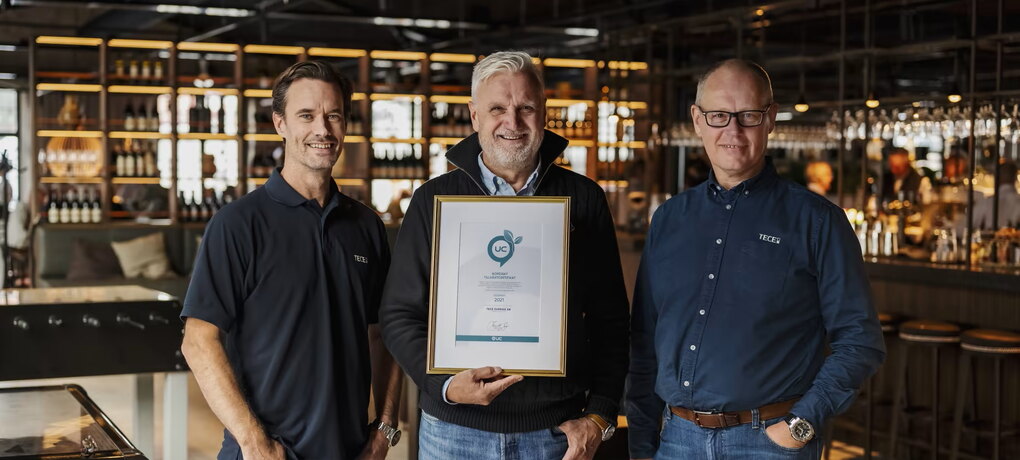 TECE was awarded the Nordic Growth Certificate by UC. From left: Fredrik Ceder (District Manager North/East), Geir Herdlevær (Nordic Managing Director), Bengt Fredriksson (District Manager South/West).
TECE Sweden receives UC Growth Certificate for remarkable business development
In the 10 years since it was founded, the Swedish subsidiary of TECE GmbH, headquartered in Emsdetten, Münsterland, has continuously increased its sales. Last year, the increase in Sweden was over 30 %. For this, the company has received the Nordic Growth Certificate from UC, which is based on TECE's good annual financial statement in 2021.
Since its foundation 10 years ago, TECE Sweden has seen a steady increase in sales of 15 to 30 percent per year. This year alone, the increase was 18 percent. Today, the company is one of the leading suppliers of sanitary systems, underfloor heating, drainage and tap water systems with sales of 68 million in 2021.
Few Swedish companies qualify as growth companies based on the UC growth model, which takes into account, among other things, sales, growth, EBITDA margin, equity ratio and number of employees.
"Of course it is a great feeling to receive the certificate! It is gratifying to see that our efforts to tailor solutions have paid off. The fact that we are in a progressive market that demands modern bathroom solutions has also contributed to our good growth," says Geir Herdlevær, CEO Nordics in the TECE Group.
The trend towards wall-hung bathroom products is generally strong, and private individuals and companies in the Nordic countries are also increasingly investing in more luxurious, modern bathrooms. TECE Sweden's market share in the market for wall-hung toilets is currently approx. 14%, with a clearly positive development due to the increasing demand in the market.
One of TECE's biggest breakthroughs on the Swedish market has come with the innovative TECE Seal System - a wide range of products in which the seal and product are already pre-assembled for water-bearing installations in the wall or floor, which saves time and provides additional safety for both the plumber and the installer. In the early years of the company's history, TECE achieved a unique position and a good name for itself.
To date, not only the turnover but also the product range has grown significantly. The Swedish company offers a wide range of sanitary solutions, drainage products and underfloor heating.