Urinal electronics with infrared recognition for the new U 2 urinal flusher
The new TECEfilo urinal electronics are available with a metal, glass or plastic surface. Their appearance therefore harmonises perfectly with various TECE flush plates such as with the toilet flush plates TECEsquare metal, TECEsquare glass or with the TECEnow toilet flush plate. The TECEfilo urinal electronics with glass and plastic surfaces can also be mounted flush to the surface with the TECEfilo installation frame.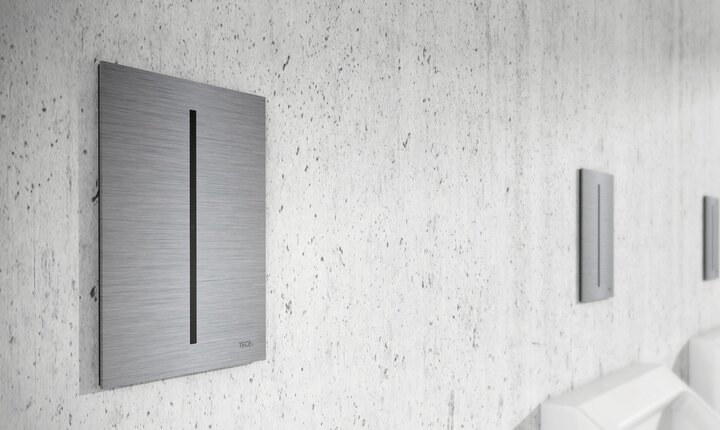 The TECE urinal flusher U 2 is suitable for installation in dry and brick-wall constructions. For dry-wall constructions, installation is done together with the TECE urinal module. The transformer is already integrated in the two shell elements which means it is suitable for direct 230 V connection.
TECE urinal flusher U 2 (transformer is already integrated for direct 230 V connection)
Programmable functions:
The TECEfilo electronics include a magnetic key with which the wash time, pre-rinsing, hygiene flush and even a break function can be programmed.
Hygiene flush:
Automatic flush actuation: 24, 72 or 168 hours after last use option
Break function:
The flush volume reduces automatically if the urinal is used at intervals of less than 2 minutes. This looks after the environment and your wallet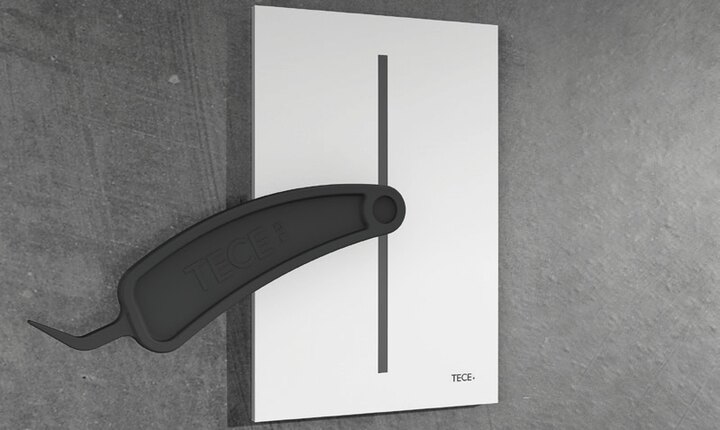 TECEfilo-Solid
The urinal especially for the public and semi-public area, with rounded corners, suitable for the TECEsolid family. TECEsolid is available in brushed stainless steel with or without anti-fingerprint coating. It is alternatively available in matte white or glossy and in glossy chrome.
The family includes the toilet flush plate TECEsolid or the electronic urinal control TECEfilo-Solid with infrared sensor.