Germany

, Bremen
Unique living in the city centre
On a former car park in Bremen's Hohentor district, an unusual residential building with a hexagonal floor plan was built in 2021.
Munich-based architects Hild und K provided the design for the eight-storey residential building, which the housing association GEWOBA selected as the winner in a competition announced in 2017. The aim was to intelligently develop the busy urban space at Hohentorsplatz to create space for new, affordable housing.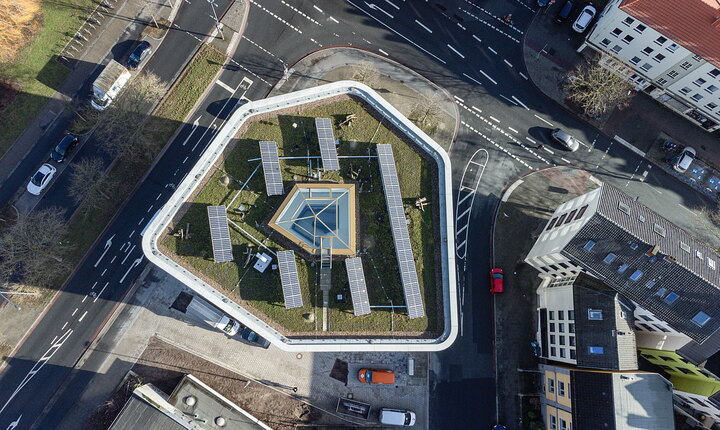 The residential building, called the "Green House" because of its façade clad in glazed green bricks, has 52 residential units, 45 of which are subsidised. The one- to three-room flats with areas of 30 to 74 m² are grouped around the central pentagonal staircase, which is generously lit by a skylight in the roof of the building.
The ground floor of the building contains a commercial space with a restaurant and room for bicycles. The upper floors are slightly staggered and set off from the lower floors with rounded corners. Another special feature can be found on the roof of the Green House: here, in cooperation with Osnabrück University of Applied Sciences, a habitat for insects was created with regional wild plants.
The special design of the house is also continued in the bathrooms of the 52 residential units.
The modern sanitary equipment from TECE in minimalist design ensures maximum user comfort here: the TECEdrainpoint S point drain with design grate integrates stylishly and unobtrusively into the bathroom design and ensures reliable drainage.
The TECEnow toilet flush plates have a convincingly straightforward, purist look with generous buttons and an extra-flat frame.
Thanks to the high degree of prefabrication, TECEsystem sanitary walls enable particularly simple planning and quick installation. In this way, the high-quality sanitary technology from TECE rounds off the unusual living concept in a functional and convincing way.
Photos: © Michael Heinrich Photography for Architects