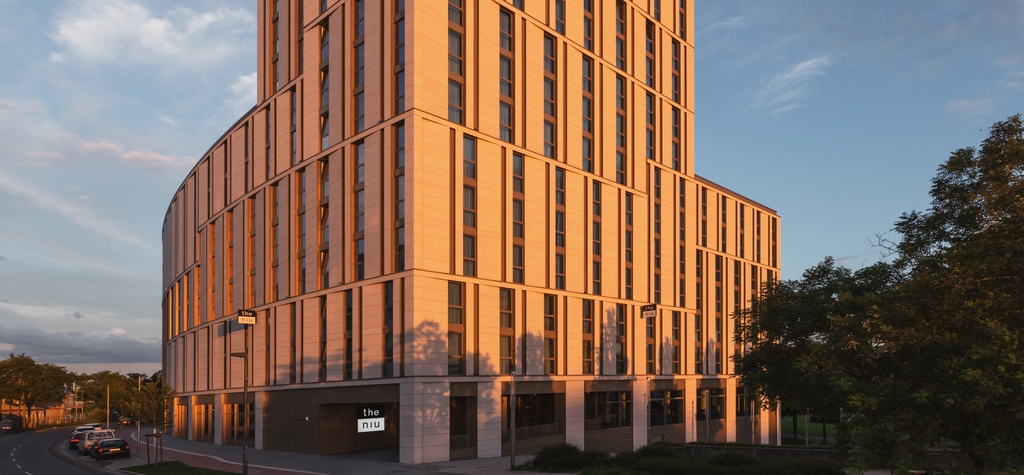 Germany

, Düsseldorf
Kon'nichiwa Düsseldorf.
The new Hotel niu Tab conveys elegance down to the last detail
Anyone looking for Japanese culture and lifestyle in Germany will quickly find it in Düsseldorf. A vibrant Japanese community has established itself here. In this environment, the niu Tab was completed in 2021 and handed over turnkey by the London-based developer, Citygrove Securities PLC.
The building of the Novum Hospitality Hotel Group, which is centrally located in the Rhine metropolis, was developed by SKAI, Siemer Kramer Architekten Ingenieure Partnerschaft mbB from Hamburg, and relies on an individual design concept for the interior by Bachhuber Contract, the international specialist for hotel furnishings.
The name alone says it all, because Tab stands for Tokyo, Art and Beer. The lobby welcomes visitors with a mix of industrial design, street art paintings and Asian furnishing elements with rustic furniture in a used look. SKAI Architects have given the new hotel building an unagitated aesthetic expression.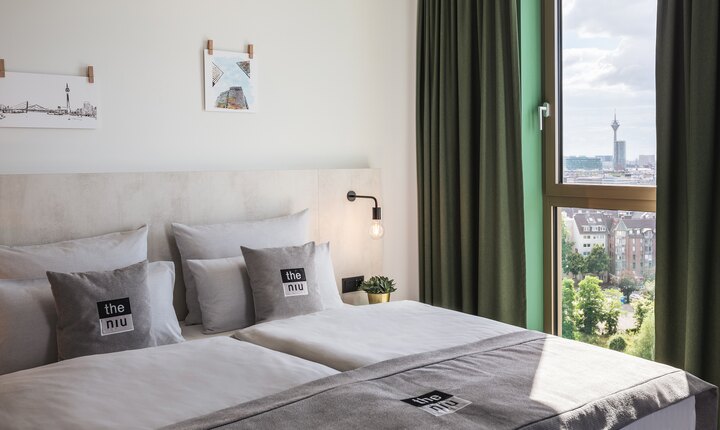 Der funktionale Bau fügt sich mit 438 Doppelzimmern und 13 Etagen in die urbane Landschaft ein. Der U-förmige Komplex besteht aus drei verbundenen Gebäudeteilen. Der Hochhausbereich besitzt zwölf Obergeschosse und wird von zwei Flachbauten flankiert, mit jeweils sieben bzw. sechs Obergeschossen. Im Erdgeschoss wird man beim Betreten von großformatigen Glasflächen begrüßt, die den Blick auf die angrenzende Grünanlage freigeben. Neben der Lobby finden sich ein Restaurant inklusive Küche und ein Arbeits- bzw. Kommunikationsbereich.
"Wir haben bei der Konzeption des Hotelkomplexes auf eine sachliche und ruhige Architektur Wert gelegt, die sich harmonisch in den urbanen Raum integriert", erläutert SKAI Architekten das Konzept der Architektur des niu Tab in Düsseldorf.
Selbstbewusste Fassade vermittelt Leichtigkeit
Die Fassadenkonstruktion wurde durch vertikale Fensterbänder aufgelockert, wofür Gruppen aus zwei, drei oder vier Elementen zusammengefasst wurden, die die gleichförmige Anordnung der Fensteröffnungen durchbrechen. Das Ergebnis nimmt dem Gebäude die Monumentalität und gibt ihm eine selbstbewusste Selbstverständlichkeit. Breite, nach innen gekippten Flächen geben der Fassade Tiefe. Geschliffener portugiesischer Kalkstein gibt der Verkleidung eine gewisse Leichtigkeit.
Durchdachte Technik im Hintergrund
Die bewusste Auswahl hochwertiger Materialien findet sich auch im Innenausbau wieder. Wichtige Aspekte bei der Planung und der Auswahl der im Hotel- und Gastronomiebereich eingesetzten Technik sind Langlebigkeit, Flexibilität und Nachhaltigkeit. Nach diesem Prinzip wurden nicht nur die 438 Doppelzimmer eingerichtet, die eine Größe zwischen 19 m2 und 27 m2 aufweisen, sondern auch die Bäder konfiguriert. In den Wänden hinter den schlicht-eleganten TECEnow Betätigungsplatten, die sich in das junge urbane Design-Konzept einfügen, verbirgt sich das Vorwandsystem desselben Herstellers.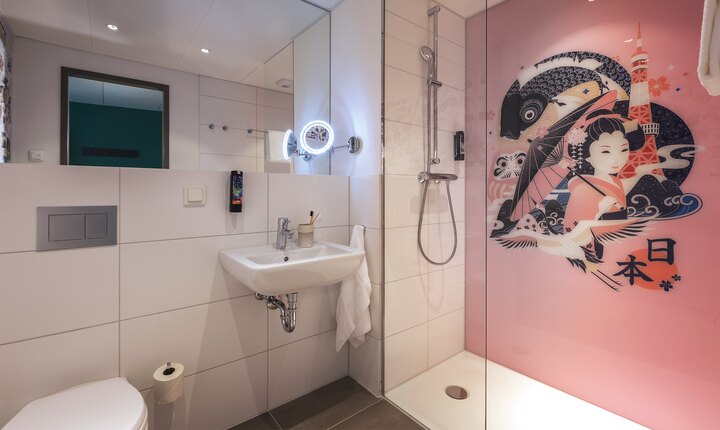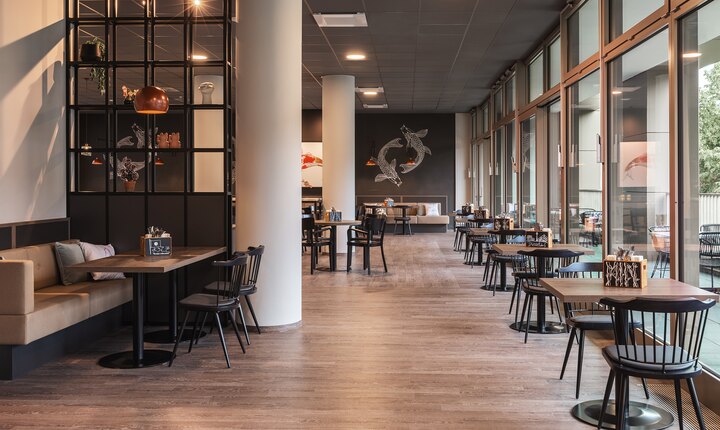 Es integriert sämtliche Sanitärmodule und ermöglicht die sichere Planung und Umsetzung verschiedener Raumaufteilungen, aber auch die einfache Erfüllung von Regelwerken wie zum Beispiel die Anforderungen an die Trinkwasserhygiene.
Jeweils zwei Bäder sind im niu TAB über durchgeschleifte Leitungen an ein WC-Modul mit integrierter Trinkwasser-Hygienespülung angeschlossen. Diese automatisiert bedarfsgerecht den regelmäßigen Wasseraustausch im Rohrnetz und beugt so Stagnation und Verkeimung vor. Alle Spülvorgänge werden automatisch erfasst und lassen sich via Bluetooth auf einem Tablet oder Smartphone dokumentieren und steuern.
 
Für den Betreiber des niu TAB stellt diese automatisierte Technik eine erhebliche Erleichterung für den bestimmungsgemäßen Betrieb der Trinkwasseranlage dar, müssten doch sonst alle längere Zeit nicht genutzten Leitung händisch durch Ablassen von Wasser gespült werden.