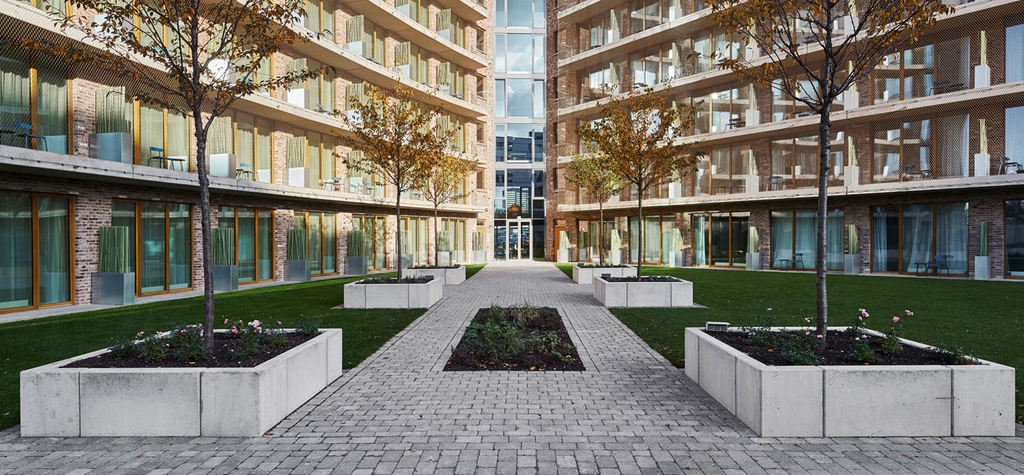 Germany

, Essen
The "Flowers" in Essen – A unique concept
With its two wings, the eight-storey "Flowers" in Essen's city centre is both a hotel and an apartment building. Even at first glance, the front made of recycled clinker bricks, which has a particularly beautiful patina, is impressive. The open balconies also add a touch of luxury. The building was designed by the Münster-based architect and project developer Andreas Deilmann, who is involved in major projects throughout Germany.
With its division into a classic hotel area and an apartment wing - whereby the apartments can also make use of the hotel comforts - the "Flowers" clearly stands out: reception and service form the axis of the building. The floor plans of all the rooms are the same, only the number of rooms in the apartment area varies. In addition, all 150 rooms and 200 apartments each have a balcony providing a walk-on outdoor area, which is enclosed by a net rather than being framed by a parapet.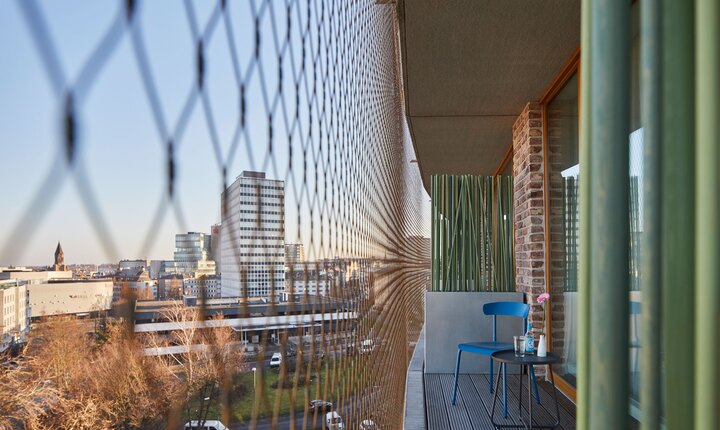 Uniform solutions for maximum efficiency
Because of the repetitive and relatively regular floor plans, the use of prefabricated elements lent itself to the building construction: the floor-to-ceiling sanitary walls were placed in the bathrooms in one piece by crane, aligned and fixed to the building structure. Afterwards, the pipelines of the prefabricated sanitary walls that had just been installed were connected to the pipelines of the sanitary walls one floor below. 
Markus Schulte, site architect in Andreas Deilmann's office, particularly appreciated the high degree of planning reliability and the reduced construction time involved in using prefabricated sanitary walls. Another advantage that pre-assembly brings is the significant reduction of error possibilities on the construction site. The ideal assembly conditions in the factory also ensure a high level of quality assurance. Installer Ralph Kerkhoff, managing director of Kerkhoff Gebäudetechnik GmbH, also favours TECEsystem. What excites him most is the possibility of having many trades working at the same time and not always having to wait for each other.
Less work with TECEsystem
TECEsystem prefabricated sanitary walls were installed in the bathrooms of both wings of the "Flowers" building. The delivery of the fully pre-installed walls not only saved time, but also reduced the number of trades and ensured the efficient installation of all water, heating and ventilation pipes for the bathrooms in a minimum of time. The prefabricated walls also complied with all relevant fire and sound insulation requirements.