Three months earlier than planned - new home for people with disabilities in Bad Bentheim
"Wohnen am Park": Idyllically situated on the edge of the castle park, the new building of the Wilfried-Jeurink Foundation will be a new home for 24 people with handicaps in the future as a care facility. Three residential groups are planned, each with eight flats between 18 and 25 square metres in size, with bathrooms that are 5.5 square metres each. Three months earlier than planned, the property will be handed over to the developer at the end of April 2023. This was made possible because industrially prefabricated installation walls from TECEsystem were used to complete the sanitary rooms. These speed up the process immensely in a new building with a certain number of identical floor plans: "We had a great deal of planning security. We were able to coordinate a lot in advance. This allowed us to significantly reduce the construction time for the sanitary installations," explains Julia Wolterink, planning coordinator for building services at G. Büter Bauunternehmen GmbH.
On the recommendation of the craftsman
Project manager Karsten Warrink from the executing craftsman's company Hermann Schulten GmbH, a plumber who had been familiar with TECEsystem for many years, met a construction company that was using the industrially prefabricated sanitary walls for the first time. "We used this property as an opportunity because we would like to use TECEsystem in further construction projects," explains Julia Wolterink. Warrink has long known the advantages of modular construction from her own experience: "I have often installed TECEsystem, for example in homes for the elderly. And I have always been very, very satisfied with it. In terms of pre-assembly, in terms of processing - it works perfectly," he says. "I brought the subject in because I knew that a lot of drywall was planned. And drywall is a weak point on many construction sites, we have communication problems or idle time, the interfaces are difficult to coordinate. That's why I came up with TECE."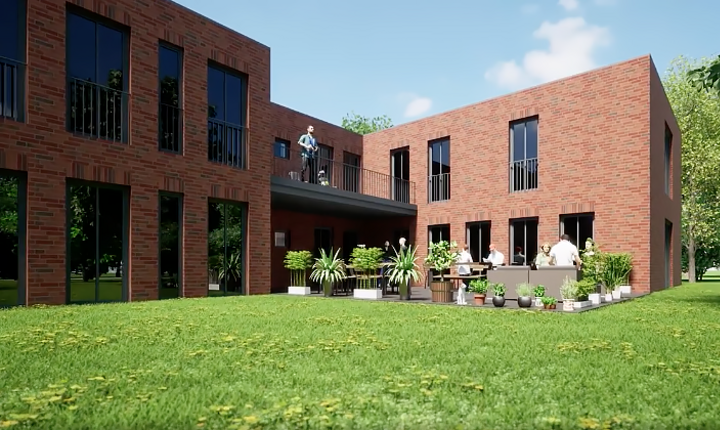 Twelve floor-to-ceiling partition walls planned
Together with the architects, Julia Wolterink decided on the industrially prefabricated sanitary walls from TECEsystem. The toilet facilities are designed in such a way that classic brick partition walls between the sanitary rooms could be dispensed with and a total of 12 room-high partition walls from TECEsystem were used in the 24 residential units. Even in the planning phase, everything went hand in hand: TECE created the production drawings, Wolterink and Warrink checked against them, then production took place. "It was child's play," says Wolterink. Even fixtures like a shampoo niche were considered in the planning.
Installation of the registers quickly and with reduced personnel expenditure
Things went similarly quickly and smoothly on the construction site: The delivery to the construction site was just-in-time, the industrially prefabricated registers were pre-positioned and then only had to be connected at the individual intersections of the lines. "The whole installation took only seven working days. There were four men on the job," explains project manager Warrink. "In conventional construction, I would have needed six to seven weeks and twice as many staff." Another advantage: The commissioned electrician also knew TECEsystem. Warrink reports: "It was also practical for him. As soon as we had put up a wall, he could get started. Because it was clear where everything would be placed - from toilet to emergency call, he could wire everything directly. We had already installed the ventilation including fire dampers on the ceilings, so they were connected directly. All in all, it was a huge saving."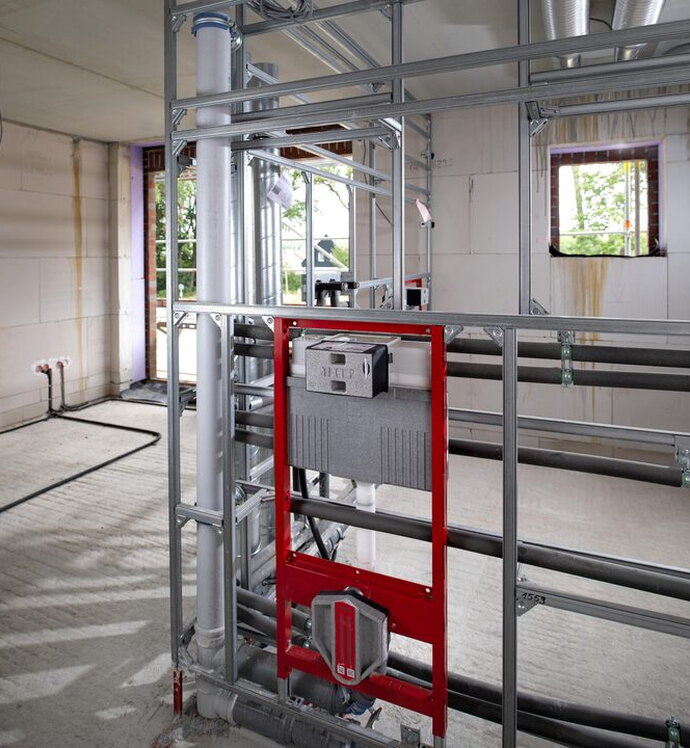 Cost savings and easy communication with TECE
"We saved at least half, if not more, of the actual installation time," Wolterink also points out. And that in turn reduced costs elsewhere. "The time spent by the craftsmen on the construction site is significantly less. And in times of a shortage of skilled labour, you can simply count that against it. Because the installation workers are becoming more and more expensive, we no longer have 45 to 50 euros per hour, but rather towards 65 to 70 euros." In addition, the support during the construction process worked smoothly. "It's the communication and simplicity that prevails on the construction site: if there's a problem, TECE is there."
The conclusion at the end: "We are super satisfied with how it went," says Julia Wolterink. Further applications with industrially prefabricated installation walls are planned and will be carried out.
Here you will find more information about this topic: TECEsystem Plumbing framework | TECE International