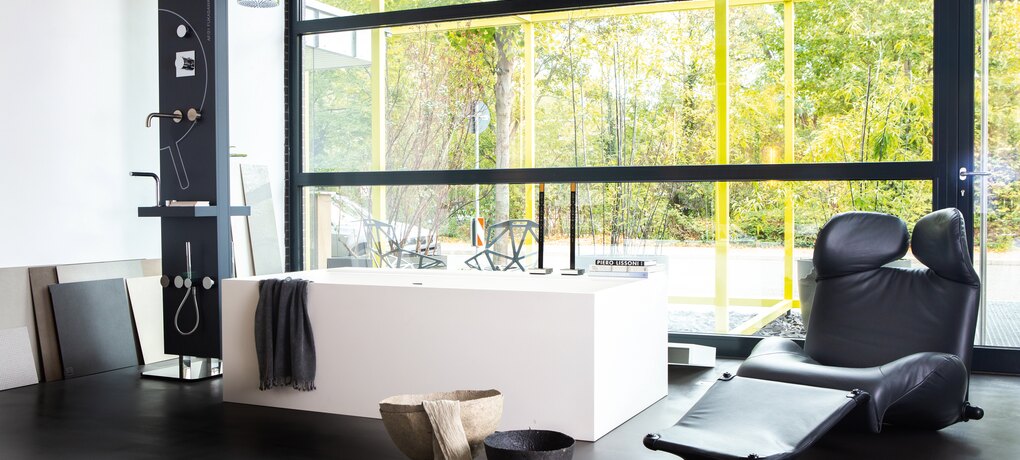 Spazio W in Ludwigshafen: The bathroom designed as a sustainable living and wellness space. Willer GmbH employs around 40 people.
Spazio W – a showroom for quality of life
Can craftsmanship play its part in saving the planet? And does a showroom have to be a product exhibition, or can it also make a statement on aesthetics, ethics and health? "Spazio W" is a showroom concept by the Ludwigshafen-based trade contractors Willer – and a metaphor for a trade that not only sells bathrooms, but also health and contemplation with the greatest possible respect for the environment. A site visit.
Unlike many classic booth exhibitions, Spazio W in the Edigheim district of Ludwigshafen is "a clear statement against the decoration and design crimes to which consumers are still exposed in many places." This is the view of Ragnar Karl Willer, 42, member of the founding family and who works in the company himself as a planner and consultant. The sociologist together with his colleague and interior designer, engineer Anke Springer, developed the concept over an area of around 480 square meters: Spazio W (loosely Italian for: Room W - W for Willer) is a clear commitment to products and manufacturers who share similar values and create things that are aesthetically and ethically progressive in their home town facility with their own permanent staff. The product, planning and implementation result in contemporary, reduced bathrooms – tailored to customer requirements.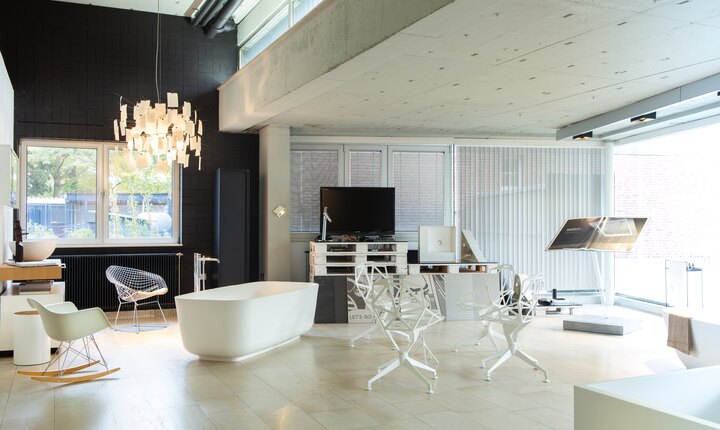 Healthy, balanced life
The bathroom is a special room within one's own four walls: it is not only the linchpin of personal hygiene, but also the place where people can find themselves. What does the trade need to offer in order to be able to design this space in an increasingly demanding world in the future? Ragnar Willer formulates the key questions for his customers: what are the foundations for a healthy, balanced life? How do you design rooms so that they meet the demands of their users in terms of health, aesthetics and functionality over the long term? "The exhibition provides a guideline, it's a tour and guide at the same time – for a relaxed, visually quiet life." For Ragnar Willer, the bathroom is "the foundation for physical and mental health".
The showroom – a new workshop
The family company has a long tradition in Ludwigshafen and with the showroom it has reinvented the classic trade workshop. The loft-like exhibition building now serves as an inspiring platform for high-quality bathroom architecture and as an invitation to customers to engage with a special consulting concept that is based on a few stories and a good deal of knowledge. The protagonist and beneficiary of this transfer of knowledge is the customer and their individual bathroom solution.
The Willer family and their team are not only united by the ideal of craftsmanship that is well-done and therefore valuable, but also by a common attitude: it's also about the big picture. The modern bathroom, according to the concept of Spazio W, should also inspire reflection about oneself and life on this planet. The bathroom is therefore ideally suited for this perspective, because it is here that the consumption of valuable resources (energy, water) comes together with a contemplative atmosphere of self-reflection. Spazio W is worth a visit, also because it gives a vision and a meaning to the trade: here craftsmanship is not reduced to the construction site or workshop, but provides a service to the conscious customer – for a better quality of lif