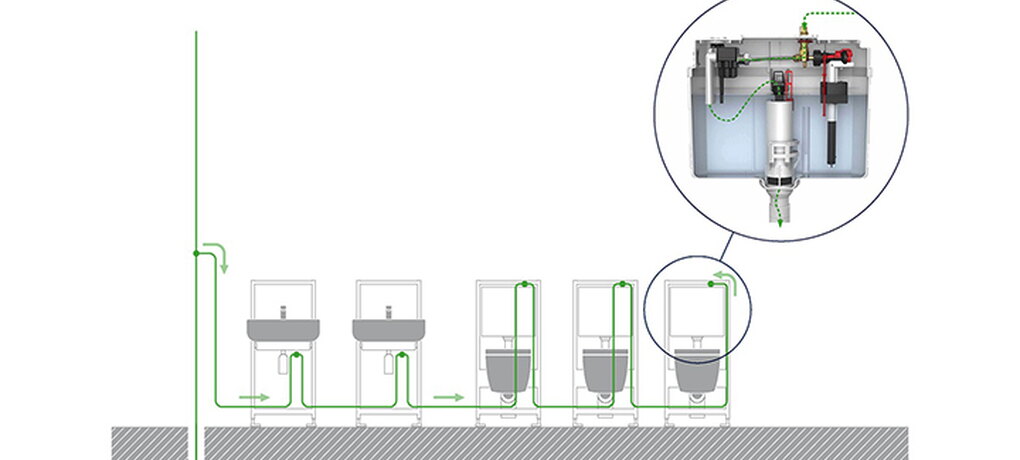 The TECEprofil toilet module with integrated hygiene flush was launched on the market as a pure cold water variant especially for cold water installations, as are common in many toilet facilities.
Pure drinking water through automated water exchange
With the TECEprofil toilet module with integrated hygiene flushing, stagnation, legionella and the associated legal problems are a thing of the past. TECE is the first sanitary technology provider to banish the hygiene flush unit to the cistern. This not only saves installation time and unnecessary pipe routes, but also an additional inspection opening. This also convinced the top-class jury of the German Design Council, which awarded the clever product the German Design Award and the German Innovation Award.
According to VDI 6023, drinking water must be exchanged in the pipes at least every 72 hours. To ensure this, TECE offers a solution that is as convenient as it is economical and reliable, which makes sense both in facilities with seasonal operation - such as in the catering trade, in retail or in schools - and in the private sector, when the flat is empty, the tenant is on holiday or wants to "save water". Thanks to the integrated hygiene flush, the water exchange no longer has to be done manually by the tenant or service staff. The TECEprofil toilet module with integrated hygiene flush is available in two variants: with connections for the hot and cold water network and as a cold water-only variant.
Hidden in the cistern
As the hygiene flushing unit disappears discreetly into the cistern, an inspection opening is no longer required. Architects and planners are pleased: The bathroom architecture is unaffected and the planning effort is reduced, because a WC module has to be planned anyway. The installation effort is also reduced, as all components are pre-assembled and separate pipe routing is unnecessary. Maintenance of the hygienic flush and the cistern is easily possible by removing the WC actuating plate. Electronically controlled valves that can be programmed via a free app ensure regular water exchange to prevent stagnation. A usage detection feature ensures that flushing only takes place when the installation is not being used sufficiently.
Legally watertight
The flush programmes are conveniently set via the app: Flush intervals or flushing on selected days of the week as well as the time of flushing can be specified. A log function saves all flushing processes and documents the current settings of the flushing programme, which can be called up via the associated TECEsmartflow app. The log tracks the flush history and proves that the system has been operating as intended for a long time - so the operator of the system is on the safe side in case of doubt.