Vision instead of wet rooms: the grouted surfaces blend seamlessly into the smoothed screed.
It doesn't always have to be tiles
Surface design in the bathroom
Bathroom designers know: the spirit of the day in bathroom design is trending towards cosiness. The individualisation of the wellbeing bathroom allows previously non-existent freedom in the selection of surfaces and materials. Frank Kudraß knows that forgoing tiles is enticing and doesn't even have to be expensive. The master painter prefers to design seamless bathrooms.
Lots of bathroom constructors are stuck on tiles and use these in the bathroom out of habit", says the Emsdetten-based master painter, who is currently the second generation to lead his company. He is also a member of the "Farbrat" (English:Colour Council), a community of values formed by master painters and interior designers. "The customer often doesn't know about the alternatives. It's precisely these alternatives that score big with individual design, cosiness and low maintenance", and that has been the case for more than 20 years now. Frank Kudraß and his team have been specialising in seamless bathrooms since 1998: "This is also why I don't like to talk about a 'trend'. Trends are finite and usually don't last long. Well-designed, seamless bathrooms on the other hand work like a single unit. They delight us down the years and their thin layer thickness means they can be overhauled with no trouble in the event of renovations. You simply have to show the customer what the possibilities are."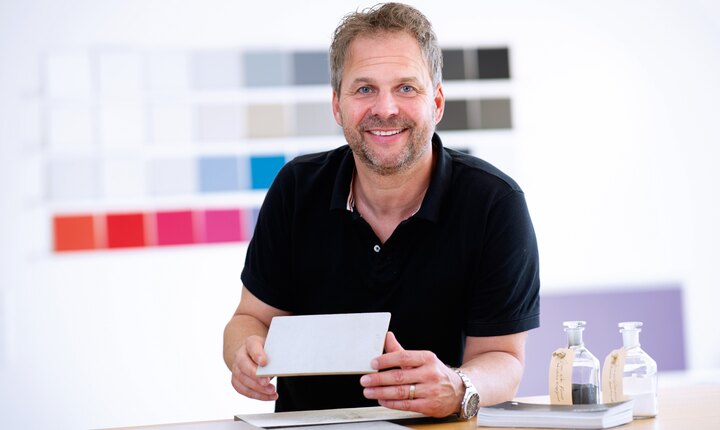 Marble chalk plastering is extremely popular
Narrow gaps or even seamlessness have always been a criterion for high-quality craftsmanship. Today, this can definetely compete on price with high-quality tiles or natural stone. And not only that. Frank Kudraß creates individual ambiences tailored to the customer in his dream bathrooms, which range from the puristic to the opulent. The master craftsman combines different smoothing and plastering techniques, wallpaper, glass and wood in his bathrooms. Tiles are by no means a taboo though, and are consciously used at the customer's request as a design element. Marble chalk plastering is extremely popular and perfectly suited for use in shower areas. The surface plastering, which resembles natural stone, is open to water vapour diffusion. Moisture is absorbed and released again. Chalk has antiseptic and fungicidal properties thanks to its high pH level. This makes it a natural enemy of mould. And all without chemicals.
Fine plastering and high-quality tiles are price neutral
Other plastering techniques such as tadelakt from Morocco, which is also mineral-based, impress with their unique shine. Once applied, the plastering is compacted with stones and polished. This results in a fine, natural surface with no joints and gives the bathroom a dash of exclusivity. It's hard to imagine, but it's true: these kinds of surface treatments are cost neutral in direct comparison to high-quality tiles or natural stone. Frank Kudraß collaborates with paint manufacturers in order to create an individual colour scheme. Wall paints from the DIY store consist of some 15 to 20 industrial pigments. By contrast, manufacturers produce paints using up to 300 rare and natural pigments that add a very natural effect to the space. "Colour is material. Unfortunately, the customer often lacks the courage and the imagination to actually use this.
Wallpapers can also be implemented seamlessly and, thanks to water-resistant glass fibre, can be increasingly found in bathrooms – and in the shower area. "Hardly any medium brings as much atmosphere to a space as wallpaper. Marble chalk impresses with its colour and surface, whereas the wallpaper scores points with its graphic effect." For individual design, wallpapers are printed digitally and the proportions of the pattern are adjusted to the wall and the space. Kudraß: "Modern bathroom wallpapers are as individual as a tailored suit. The tailored suit for your wall."
Easier cleaning without joints
In addition to his expertise when it comes to surfaces, Frank Kudraß's competence lies in giving his customers some ideas: "The customer doesn't always come to me with a concrete idea. They simply don't know about the possibilities. My job is to show these to them and to inspire them." A model with a future: "The planning of private bathrooms will continue developing more and more in a personalised direction." But bathrooms such as the ones that Frank Kudraß's team designs aren't just for the eyes and wellbeing: seamless bathrooms are very easy to keep clean. That's because if there are no joints then they also don't require effort to be cleaned.