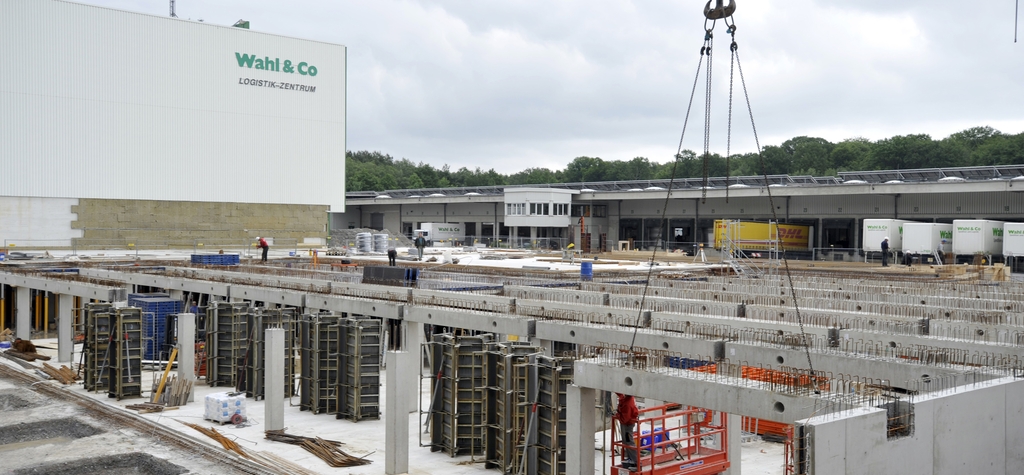 Germany

, Bielefeld
Hochregallager Wahl & Co.
Logistics specialist Wahl & Co. has signed up for sustainability and is heating its new high-bay warehouse with a heat pump and underfloor heating. During laying of the approx. 30,000 metres of TECEfloor heating pipe, flexibility was of prime importance for heating engineer Stefan Röwekamp: for three months, his fitters were ready and on call.
The approx. 5,000 m² building floor area was split into seven building sections. As in a relay race, the three trades passed the baton on to each other: for the reinforced concrete of the floor, the mesh reinforcement was first installed. In the steel mesh, the Röwekamp fitters then laid the heating pipes. Finally, it was the turn of the concrete constructors. Each trade was dependent on the weather and the speed at which the other trades progressed.
In addition to speed, extreme care was required, because the floor of a 28-metre high warehouse must meet high requirements: The surface must be especially level, so that the high-shelf fork-lifts can access even the highest shelves correctly.
For Stefan Röwekamp, construction projects with these kinds of time pressures are quite common, but he is still pleased when everything runs smoothly. To avoid risks from the outset, he only works with systems he knows to be reliable.