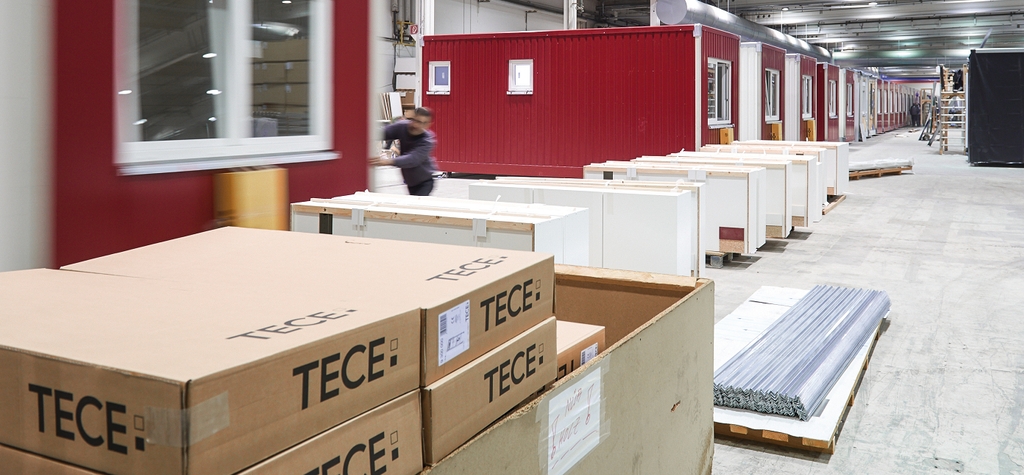 16.02.2017 - News
Wall Section and Pre-Wall Section
Competence: Project & Planning
TECEsystem
Handling building processes quickly and efficiently
Industrially prefabricated TECEsystem wall sections help implement refurbishment and new-building projects in a more reliable, rational and cost-saving way. Advantages that also make the TECEsystem interesting for temporary housing – as in building emergency accommodation at the present time.
The challenge for all those involved in building emergency accommodation lies in making the necessary number available promptly and cost-efficiently. With the industrial prefabrication of TECEsystem wall sections, the sanitary, heating and dry wall trades are merged. "TECE system technology reduces the number of persons involved in building, simplifies planning and coordination and so allows building and delivery times to be significantly reduced", says Ralf Thorwesten, application engineer at TECE. "Thanks to our wall section manufacture practised and continuously developed over many years, TECE is in a position to respond flexibly to a wide range of wall section variants and to deliver the agreed call-up orders on time." Often TECElogo also comes into use here. On the one hand, the push-fit system can be fitted very well in the tightly spaced wall sections, and on the other hand, the modules are easy to connect to one another on the building site.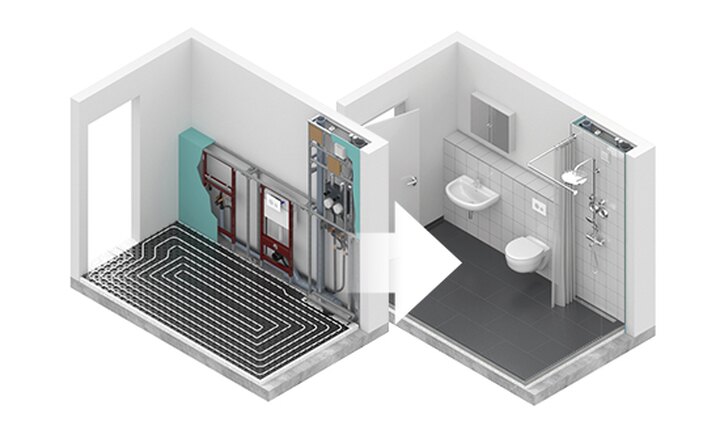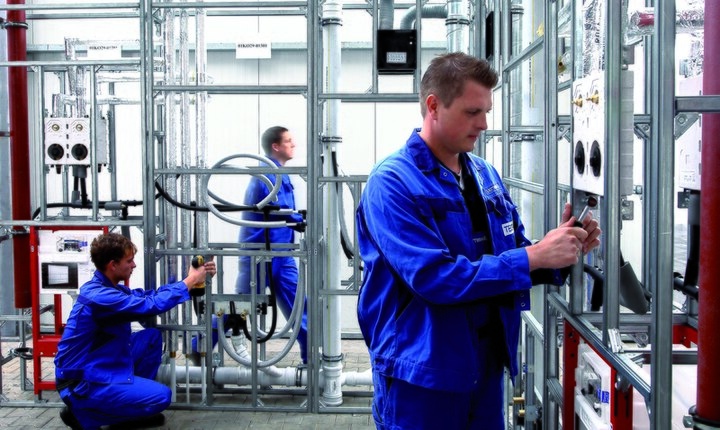 G. Ungrund GmbH – Räume zum Leben [rooms to live] – from Neuenkirchen is currently building 2,500 residential and sanitary units. Loohuis Installationstechnik GmbH from Rheine is responsible for installing and connecting the sanitary walls in the containers. Here too, the wall sections are individually tailored to the containers. As a result of the high frequency of use, the sanitary elements in the containers are subject to extreme stresses. To minimise the damage arising, the choice of toilet flush plate was made for the robust model TECEplanus. The plate is made of stainless steel and is ideal for the high loads.
One package with a system
TECEsystem is a solution that not only optimises building of temporary living space - for example in containers - but is also suitable for housing construction, as well as for the commercial and industrial sectors. An extensive service package belongs to planning and building wall sections. Together with the customer, individual requirements for the respective project are defined and subsequently implemented specifically by the TECE Property Management team. Besides creating CAD drawings of the wall sections, the relevant fire safety, soundproofing and thermal insulation measures are implemented in accordance with standards. Property Management oversees the project throughout the entire planning and building phases, participates in construction meetings and plans the building process, including scheduling just-in-time delivery of the wall sections.