Planning the future market with disability barrier-free bathrooms
Forecasts are tough – especially when they concern the future. But the future is predestined in some sectors: in Germany alone, 7 million bathrooms will need to be built or retrofitted by the year 2030 to become age-appropriate. This need is real - and it's huge.
Living up to individual disabilities
Hamburg native Marie Striewe is a TÜV-certified specialist designer for age-appropriate bathrooms. She knows exactly how a bathroom can live up to personal disabilities and age-related changing requirements. The requirements for the barrier-free bathroom are entirely different: bathrooms that live up to the requirements of the aged, wheelchair users and the visually impaired differ fundamentally in the planning.
The bathroom for the elderly
An age-appropriate bathroom must be functional above all else - and shouldn't look sterile or straight out of a care home. These are two negative associations that the keyword 'barrier-free' has outgrown today. In principle, an age-appropriate bathroom is nothing other than a comfortably designed area where you enjoy spending time and in which people with physical disabilities also feel well and safe, can wash independently and where necessary, shower or bathe with someone to assist. In an ideal scenario, this saves having to move into a retirement or care home. That's because the bathroom is the neuralgic point of the home.
This means provisioning is possible even before the construction begins, even if no senior bathrooms are yet required at this stage. Walls can be fitted with OSB boards in advance to allow integration of safety support arms and shower seats later on. Additionally, the bathroom can be designed with zero thresholds and wide passages. The positive side-effect: the bathroom appears spacious and open. With the help of pre-wall technology, seating and parking areas can be easily created around the bath tub and shower. Wide parking areas around the washstand can be used decoratively and also later serve for supporting and holding on. Single-lever mixers and shower toilets are also especially seniors-friendly.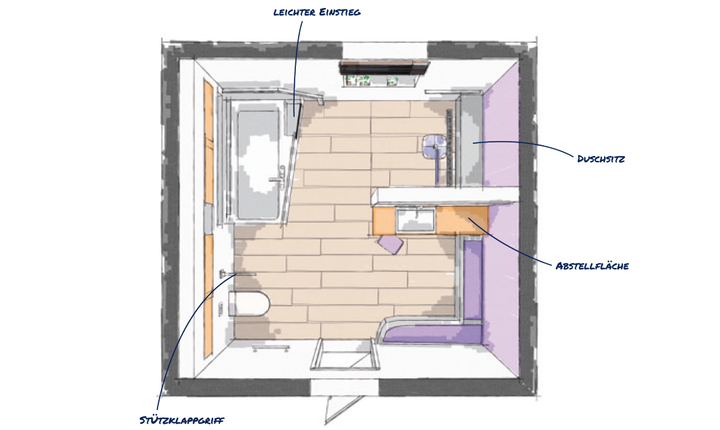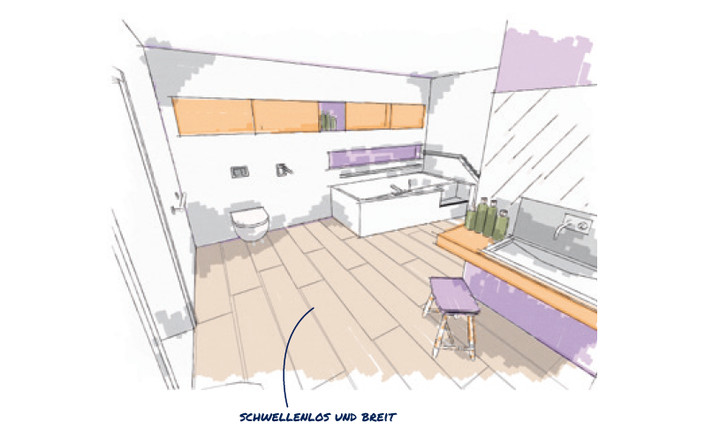 Building wheelchair-friendly bathrooms
"Planning for a bathroom in the private sector that is suitable for wheelchairs is a big challenge", says Marie Striewe. Every centimetre counts because you can only use a bathroom unrestricted if it has a minimum floor area to begin with. DIN 18040-2 defines wide accesses and sufficient room for movement for this: in order to be able to even drive a standard wheelchair through the door, the standard already requires a clear door width of 90 cm. Equally, the door mustn't open into the sanitary area so it can be opened in an emergency if someone falls in front of the door. In order to manoeuvre freely with no problems, a minimum movement area of at least 150 x 150 cm is required. The same also applies for the floor-level showers with seating area. The washstand and all larger shelf spaces should have bottom clearance, the recommended height here is 80 cm, some 5-10 cm lower than in standard bathrooms. Mirrors should preferably be tiltable in order to meet users' needs, recommends Marie Striewe.
Minimum distances should also be observed for the toilet: a distance of 90 cm is required between the wall and the front edge of the sink for a sideways transfer to the ceramic. The distance between the necessary safety support arms should be a minimum of 65 cm. Safety support arms with integrated toilet roll holder are recommended. Additionally, a backrest should be fitted for an optimum seating posture.
Requirements for the visually impaired
A few simple measures are often sufficient to provide Germany's approximately 1.2 million visually impaired customers with the independence they're looking for and to protect them against injuries in the bathroom. Visual impairment means that a person's vision is less than 30% and not that the person in question is blind. This is why colour contrasts can be majorly important for many. Fittings, handrails, flush plates and seating options should therefore be designed to be as high-contrast as possible. To prevent slipping, bathroom rugs in contrasting colours can be added. In the best cases, shampoo and soap dispensers should be mounted on the wall to prevent them being knocked over. Contrasts can also prove helpful in bathtubs and sinks. Floating objects in luminous colours are useful for identifying the water level - like the classic rubber ducky - in addition to contrasting adhesive tape for marking the desired water level.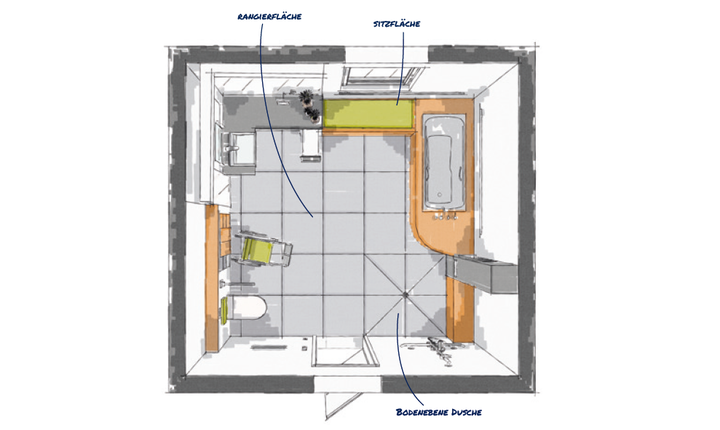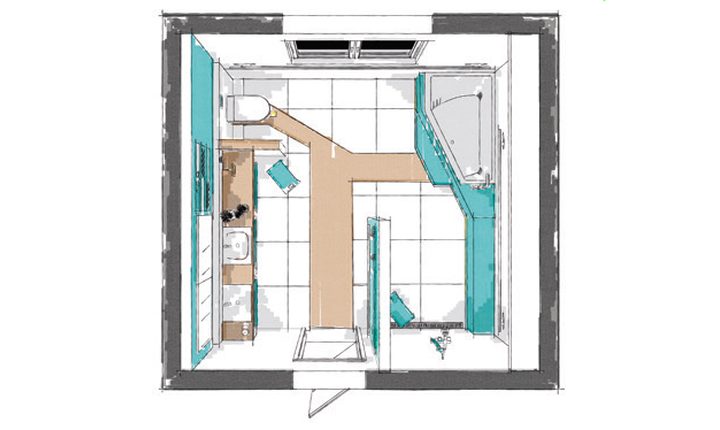 Barrier-free building - without the barrier-free look.
The future of construction is barrier-free - which can also be written with the term 'universal design'. This means that spaces and products are freely accessible and comfortable to use for people of all age groups and in all living situations. More and more solutions have built this quality in. Some examples make this clear.
The TECEdrainline shower channel is a showcase product of universal design. It guarantees continuous bathroom floors without thresholds.
TECElux is another example: the toilet terminal is height-adjustable which is as great for back problems as it is for transferring from the wheelchair.
High-contrast flush plates are also easy to read for people with visual restrictions - and easy to operate. These are also a solution from universal design.