Trade association certifies outstanding quality of TECE product data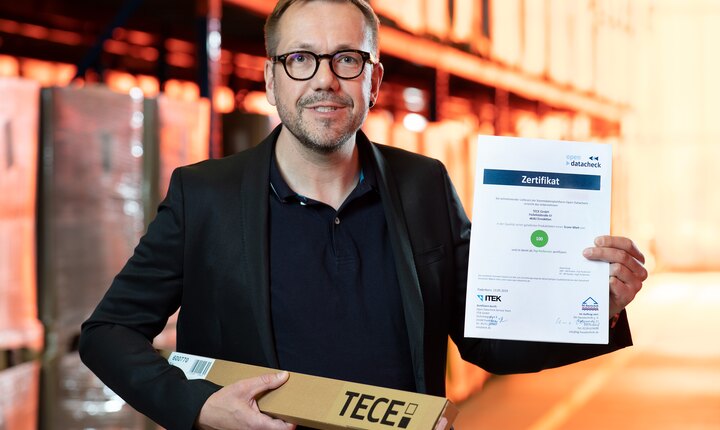 The online platform "Open Datacheck" contains the master data of just shy of 200 manufacturers from the HVAC sector, including the TECE product range. The portal was established by the Deutschen Großhandelsverband Haustechnik (DG Haustechnik) and is specially aimed at traders - over 80% of all wholesalers in the German-speaking market are already using it. What's special about this is that The quality of the data from the individual manufacturers is rated on a scale that goes up to 100. TECE achieved the best rating and has now been certified as a top performer.
Holger Kleine-Tebbe, Head of Product Data and Ranges at TECE: "The quality of our data is very positively perceived by wholesalers. They benefit very clearly from this, because it means they are spared the effort of follow-up works and queries". "Open Datacheck" checks the product data submitted against the standards applicable in the sector. The manufacturers receive detailed test reports that show them the quality of the data and allow them to implement improvements where necessary. The actuality and completeness of the data are rated, among other things. In this simple way, the wholesaler gets access to uniform, high-quality product data.
In parallel to the offering from DG Haustechnik, trade-specific product data from TECE can also be found on "Open Datapool", a platform from ZVSHK that works along the same principles. Additionally, all plan data, master data, tender data, images, dimension drawings, assembly and care guides are also available on the "SHK-Branchenportal" from the industry association "ARGE Neue Medien".