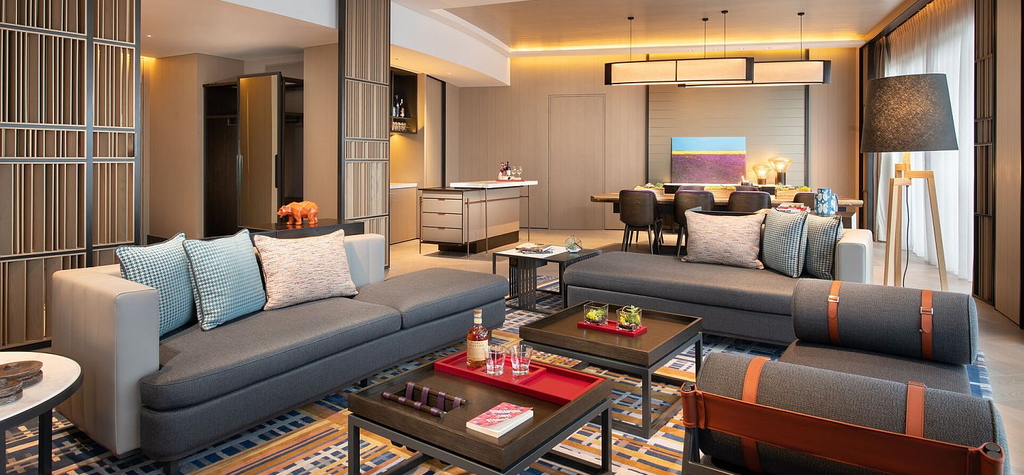 Singapore

, Singapur
Swissôtel The Stamford
Hardly any other building characterises Singapore's skyline as much as Swissôtel The Stamford. When it opened in 1986, the luxury hotel designed by star architect Ieoh Ming Pei was the tallest hotel in the world at 226 metres - and today it is still one of the tallest in all of Southeast Asia. From the roof terrace of the 73-storey building, the view extends to the nearby islands of Malaysia and Indonesia. But it is not only architecturally that the 5-star hotel managed by Accor sets absolute standards: With 15 different restaurants and bars, a 10,000 m² congress centre, a fitness studio, tennis courts, several pools as well as the exclusive Willow Stream Spa covering more than 4,500 m², Swissôtel The Stamford is the epitome of luxury and comfort par excellence.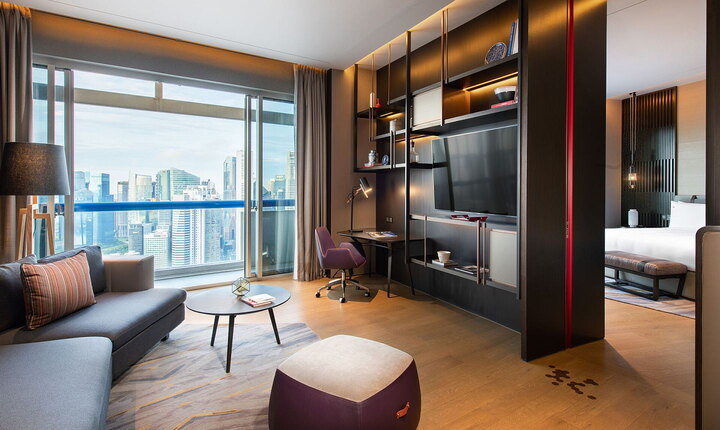 In 2019, the iconic hotel underwent a multi-million dollar extensive renovation and modernisation. The redesign was undertaken by award-winning design firm Wilson Associates, who took it upon themselves to combine Asian and Swiss interior design elements in an innovative way.
The result: 1,252 highly comfortable rooms and suites that exude pure elegance and carefree luxury. For the material palette, the interior design experts took inspiration from Swiss chalets and opted for a stylish mix of teak furniture, natural colours and minimalist seating. Iconic Swiss features such as the red cross or motifs of mountain landscapes run through the room concept as detailed accents and embody the typical Swiss hospitality for which Swissôtel The Stamford is world-famous.
The sophisticated design concept is also continued in the bathrooms: walls, floors and storage surfaces made of marble create an extravagant look here in combination with wood details and contrasting black accessories. The champagne-coloured aluminium wall panelling behind the washbasin and toilet is also a special highlight. In order to create a look as if from a single mould, TECE produced 1,261 colour-matching toilet flush plates especially for Swissôtel The Stamford: The customised TECEnow flush plates in shimmering metallic champagne blend seamlessly into the room design and, with their extra-flat construction of just 5 mm, underline the restrained, clear elegance of the furnishing concept.
The 1,261 TECE Octa cisterns also meet the highest demands in the smallest of spaces: the toilet cisterns with a compact and space-saving installation depth of just 8 cm were specially developed for installation in narrow walls - such as those often found in hotels - and with a water volume of 9.5 l ensure optimum drainage behind the scenes. In this way, the sanitary products from TECE contribute to the unique overall concept of Swissôtel The Stamford with state-of-the-art technology and high-quality design.