All thought out, all tested, all fits!
When it comes to floor heating, TECE has long been a specialist: In the 1980s, the company launched the first diffusion-tight composite aluminium pipes on the market.The TECEfloor range is therefore the result of decades of experience in the area of floor heating.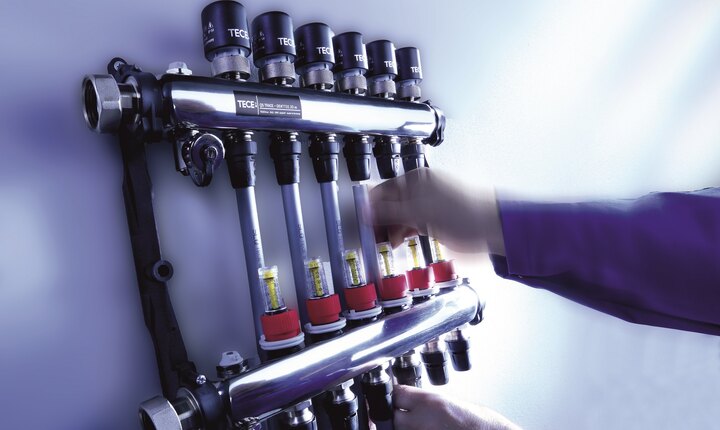 TECEfloor is a complete system
and consists of heating pipes, installation accessories, manifolds and control technology.
TECEfloor emphasises quality
All components are carefully selected and have been tested for 100% compatibility.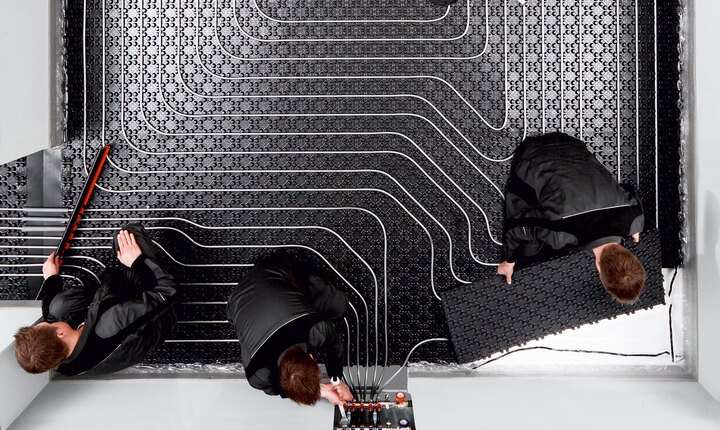 Attractive RTL box
Temperature controller in real glass.
With the new RTL Box, TECE launches a visually pleasing floor heating regulator with a real glass cover and an attractive aluminium dial. Thanks to its attractive design and compact dimensions, the box doesn't need to be hidden and can be installed in a user-friendly way at light switch height.
Conventional return temperature limiters (RTLs) are primarily purpose-designed. When developing the product, the design is often too short. Consequently, the RTLs are often placed at ground level, if possible in a concealed way, which does not exactly facilitate user-friendliness. TECE takes a different approach with the TECEfloor RTL Box, which looks really good! The seven-millimetre flat real glass cover is available in a choice of black or white. The thermostat dial made of anodised aluminium lends a high-quality look and feel. At a compact size of 104 x 124 millimetres, the box is up to 60 percent smaller than most competitors' products.
Control devices also influence the appeal of the room. This attractive solution looks good and is easy to operate.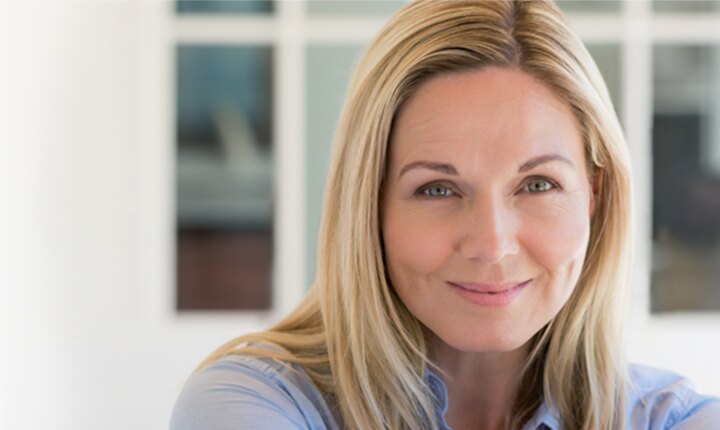 TECEfloor design RTL box
Real glass surface with ceramic screen printing
Bevelled and polished edges
Dimensions only 10 x 12 cm approx.
Only protrudes 2.5 cm into the room
Thermostat head made of anodised aluminium
Inlet and return flow exchangeable
TECEfloor Design RTL Box bare-wall and fine installation set
Bare-wall set consists of:
Wall-mounting box with presettable control valve, presettable RTL valve and thermostat valve
Bare-wall protection and 3/4" Eurocone connection adapter
Installation depth: 65–90 mm
Fine installation set consists of:
High-quality cover plate design made of real glass
Thermostat head made of anodised aluminium
Plastic mounting frame
Mounting plate for depth adjustment
Dimensions of the cover plate 104 x 124 x 7 mm (W x H x D)
Design thermostat base DT 230 V and DT design thermostat cover
Base plate with electronic control for all TECEfloor DT design thermostat covers
Can be installed on a flush-mounted socket or directly onto the wall
Dimensions incl. design cover: Diameter approx. 105 mm, depth approx. 27 mm
Available in two designs:
DT 230 V / 1.8 A - max. 10 drives per 3 W
DT 24 V / 1 A - max. 5 drives per 3 W
Perfect fit:
TECEfloor RTL Box
The thermostat dial made of anodised aluminium lends a high-quality look and feel. At a compact size of 104 x 124 millimetres, the box is up to 60 percent smaller than most competitors' products.
In practice, it often occurs with conventional RTL boxes that the thermostat dial protrudes a long way out of the wall, depending on the wall layout. TECE has developed a mounting plate with a special depth adjustment system, which always provides a consistent appearance - in all rooms, on every wall.
The box can also be positioned at the usual light switch height. This avoids inconvenient operation involving stooping down to floor level.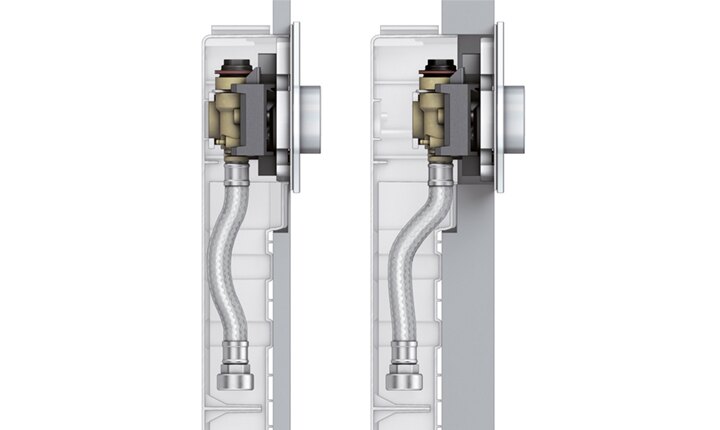 Glass along the line:
TECEfloor wall thermostat
Thanks to its high-quality glass surface the TECEfloor design thermostat even looks good in a modern, architecturally-challenging environment. With an outer diameter of 104 mm, the thermostat is recognised as a discrete design element and also perfectly covers the flush-mounted sockets of standard thermostats in the event of replacement.
Efficient individual room control
Circular room thermostat with minimalist design
The real glass cover is available in different colours
Highly creative design in comparison to conventional thermostats
Blends perfectly with the TECElux and TECEloop design series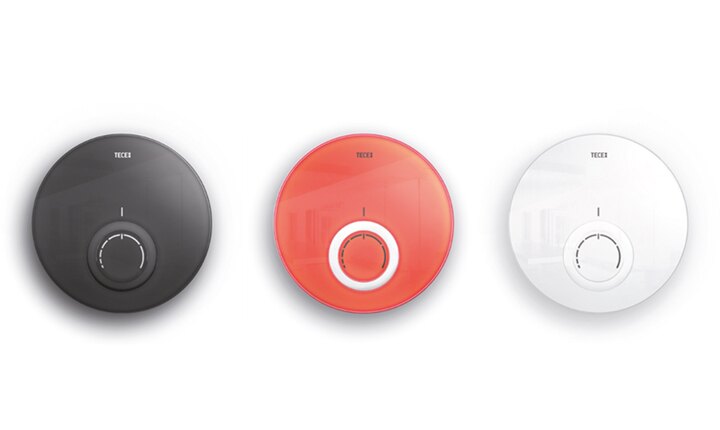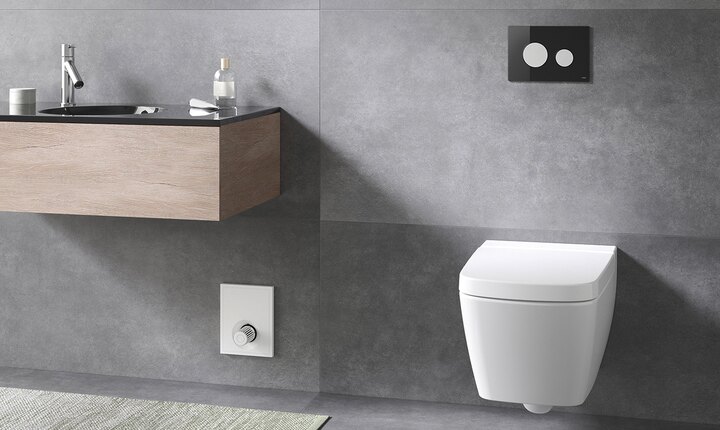 Conventional return temperature limiters tend to crawl at around floor level. In addition to inconvenient operation, this location is also unfavourable from a technical point of view because the temperature sensor is located close to the source of heat.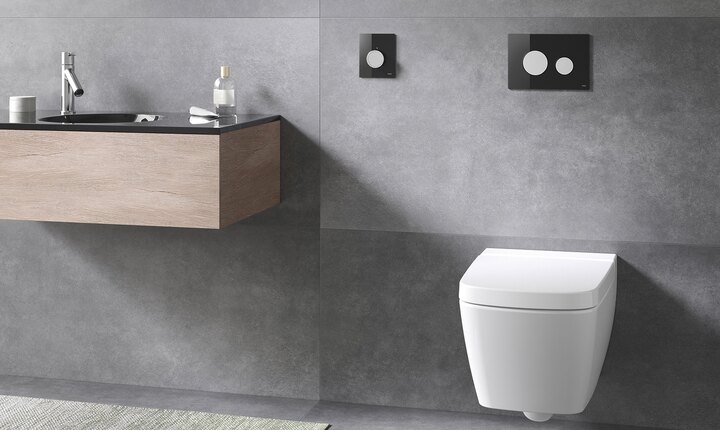 The TECEfloor Design RTL Box can be easily installed and neatly aligned at light switch height thanks to intelligent mounting technology.
Compatibility & Quality
We have high quality demands for our underfloor heating system. This manifests in the label "Silver Line Quality" (SLQ). It stands for tested quality and the guaranteed compatibility of all components.
SLQ – for water-bearing and functional parts
The tight production tolerances of the heating pipes in TECEfloor are perfectly tailored to the support and clamping ring of the clamped joint. The O-ring of the clamped joint provides accurately dimensioned sealing in the manifold's Eurocone. In the servomotor, not only the union nut but also the lifting and closing dimension are adjusted to match the valve insert of the manifold.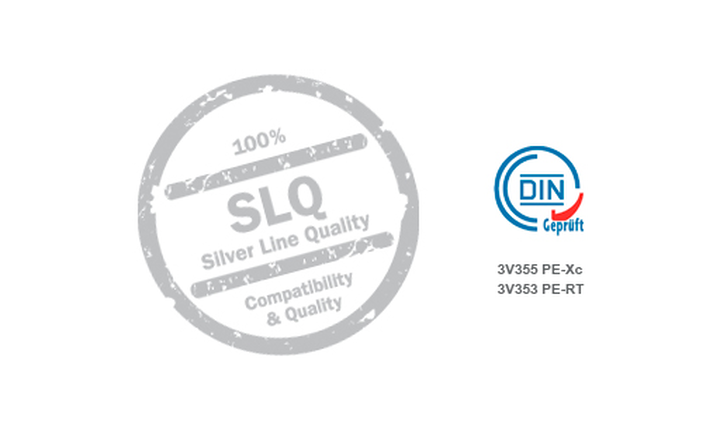 SLQ compatibility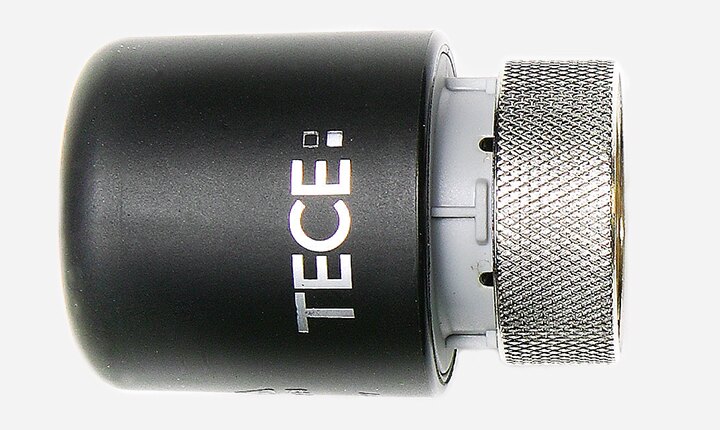 Drive and valve
Closing dimension of drive and valve
Lifting of drive and valve
Spring force of drive and valve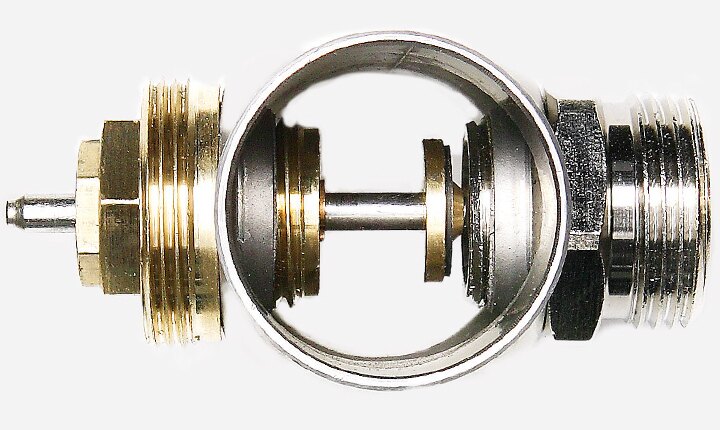 Manifold and screw connection
Cone dimensions
Production tolerances of the contacting elements
Position and cord size of the O-ring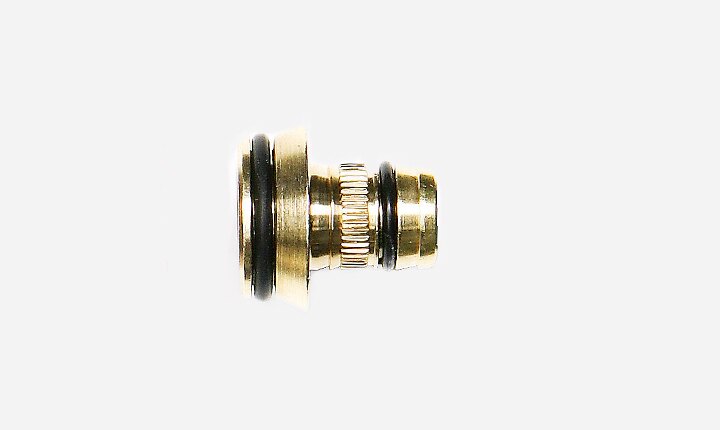 Manifold and screw connection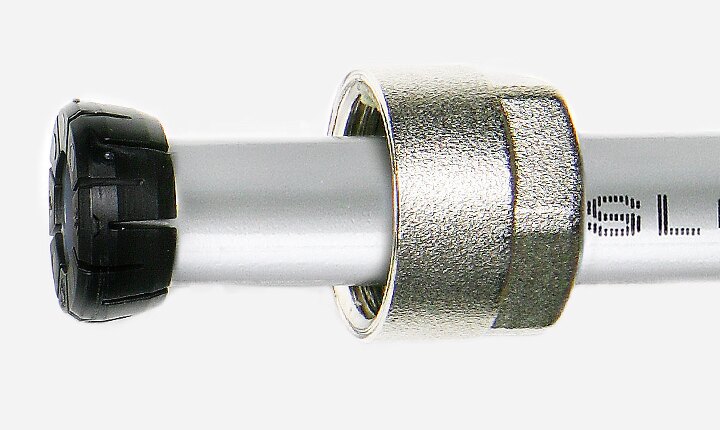 Screw connection and pipe
Production tolerance of pipe and support
Screw connection tightening torque
Temperature change checker 5,000 cycles, 95-20 6 bar
TECEsmartfloor – the intuitive quick design
Do you want to quickly and easily calculate everything you need for an underfloor heating system? You can do this thanks to TECEsmartfloor. From pressure loss and material lists to circuit length and water volume, the smart, quick design with its intuitive user interface calculates everything you need in just a few minutes. And in just one click, you will receive a detailed calculation and material list from us.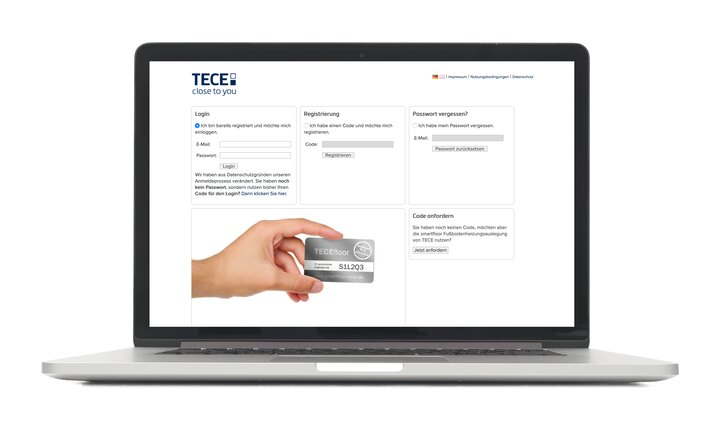 Pipes and connection technology
TECEfloor – the pipe range
In its own production facilities, TECE manufactures composite and plastic pipes for domestic installation on state-of-the-art machinery. The heating pipes are offered in the dimensions 14 x 2 mm, 16 x 2 mm, 17 x 2 mm and 20 x 2 mm in various material qualities.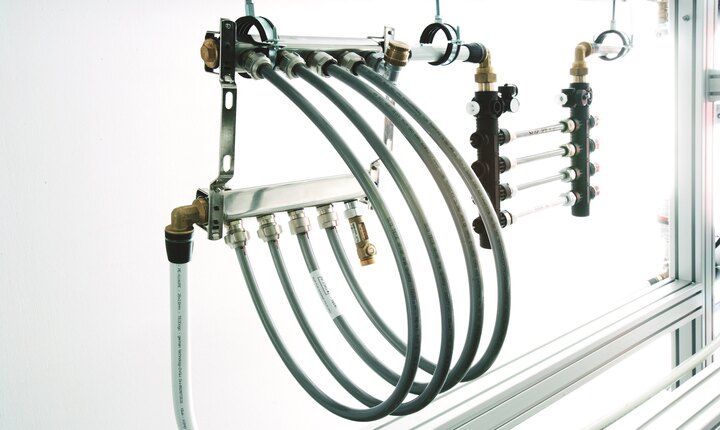 TECEfloor heating pipe - the right pipe for every requirement
SLQ PE-RT 5S
The EVOH oxygen protection layer has consciously been placed at the centre of the pipe where it stays protected against outside stress, against scratches and abrasion.
SLQ PE-RT/AI/PE-RT
Aluminium-plastic composite pipe made of high-density polyethylene with increased temperature-resistance. With soft aluminium core specially for floor heating.
SLQ PE-RT type 2
Plastic pipe made of high-density polyethylene with increased temperature-resistance. The low-cost alternative.
SLQ PE-MDXc 5S
Five-layer plastic pipe made of cross-linked polyethylene in medium thickness. Highly flexible specially for floor heating.
SLQ PE-Xc
Plastic pipe made of cross-linked, high density polyethylene. Extremely tough against formation of stress fractures.
Attachment systems / system plates
TECEfloor underfloor heating – laying the right solution
From the simple bubbe wrap through back-foamed dimpled panels with heat and impact noise insulation through to tacking sheets and pipe mats, TECEfloor offers the desired attachment system for every application.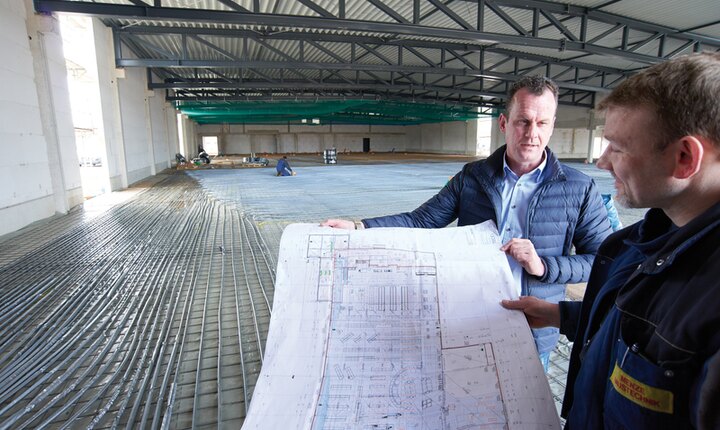 Dimple system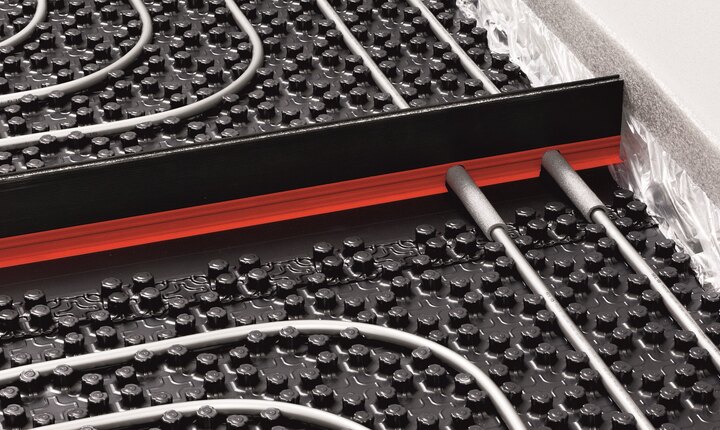 The dimple system is available in three version - with or without (impact noise) insulation. The dimple structure guarantees reliable pipe fixation and allows axial and diagonal laying of pipes in a 6 cm laying pattern. Suitable for pipe dimensions 14, 16 and 17 mm.
Dry-wall construction system 30/16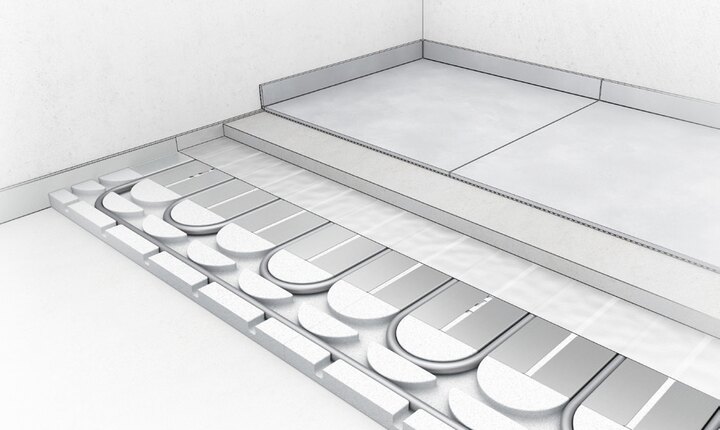 The dry-wall construction system 30/16 is the standard dry-wall construction system in combination with dry screed elements (e.g. Fermacell, Knauf).For a particularly light floor construction with short construction times and zero drying times. A lower construction height or a lower area weight with faster heating times is also possible in combination with thin-bed screeds.
Underfloor heating pipe
Underfloor heating systems are also interesting for use in industrial buildings due to their economic energy consumption. TECE offers a new, five-layer TECEfloor PE-RT pipe with an extra thick outer layer especially for such applications. Sleeve fittings are suitable for this pipe as coupling and manifold connections.
Universal panel 16/12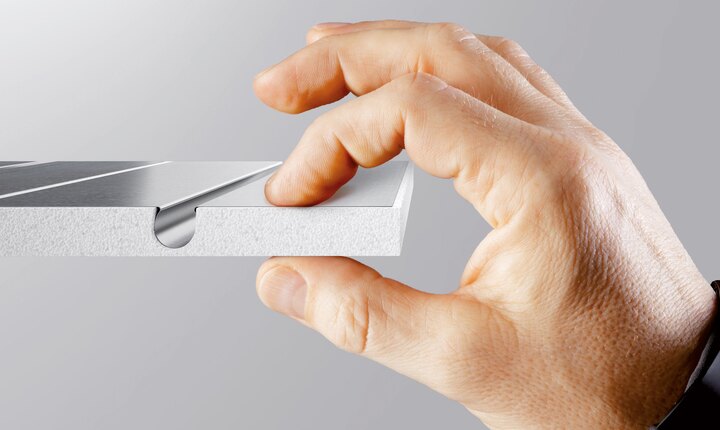 The universal panel 16/12 is particularly suitable for restricted installation heights for integration in the floor, on the wall and under the ceiling. This is possible thanks to the low element height of just 16 mm and using a 12 x 1.5 mm heating pipe. The extremely low installation provides optimum controllability of the system.
Tracker system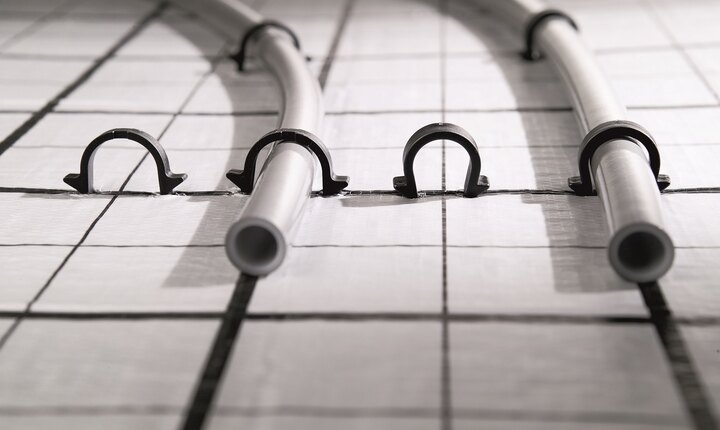 Impact noise insulation with highly tear-resistant fabric foil for cost-conscious laying. The extra-wide TECE "T8 extra" tacking pin with its special toggle hinge technology offers a particularly perfect hold for the heating pipes.
The accompanying tacker works reliably and trouble-free. That is why many of our customers have been swearing by tacking pins and tackers for a long time already.
Tracker system 10plus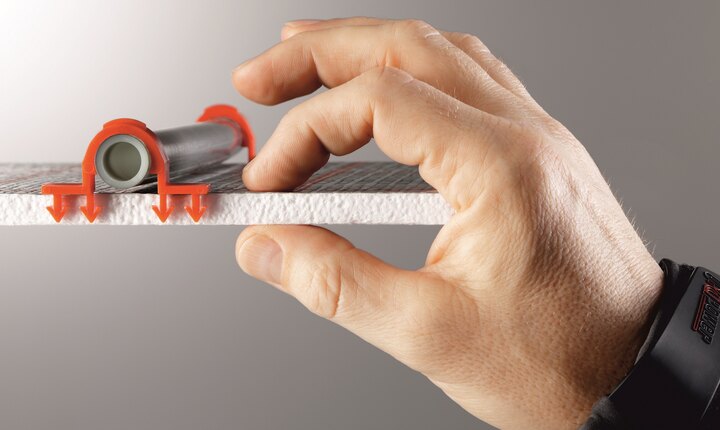 10 mm thick EPS folding tacking sheet for universal laying on customer's insulation such as suitable mineral wool, EPS and PUR insulation or in renovations on the existing screed. Regardless of the requirements for thermal insulation, impact sound insulation, moveable load or installation height, the additional insulation changes but the tacking sheet always stays the same.
Screed accessory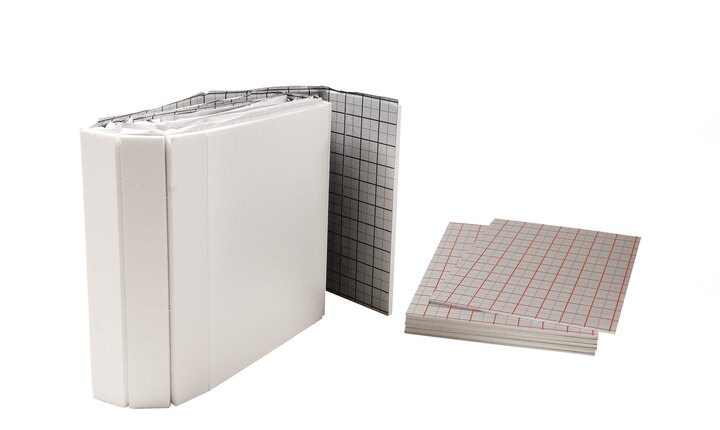 TECEfloor offers everything needed for correct laying. Whether its a joint levelling element, expansion gap profile or edge insulating strips: the TECEfloor screed accessory is practical.
Ideal for industrial underfloor heating
The rough everyday conditions of the construction site mean the outer layer of a pipe can quickly be damaged by scratches and abrasion, particularly where large surfaces are laid with pipes. The TECEfloor five-layer pipe is thus designed to be particularly robust. The oxygen barrier layer at its centre is ideally suited for use in industrial underfloor heating.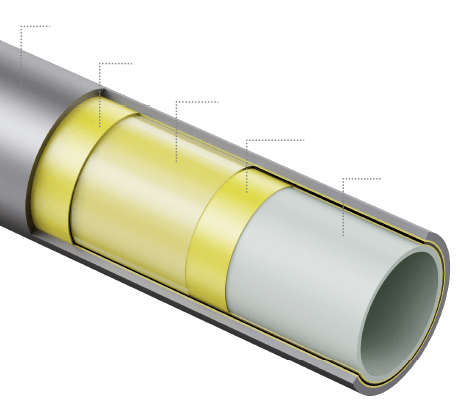 Manifolds and controls
TECEfloor Manifold Type Logo – It couldn't be easier!
The new stainless steel manifold from TECE is designed for use with pre-assembled push-fittings. That makes connecting pipes significantly easier. In addition to the innovative connection technology, the new stainless steel manifold also offers a large chamber volume and, as a consequence, less loss of pressure in the manifold system.
No need to struggle with an open-ended spanner
No twisting pipes – twist-free joints
It is impossible to get the insertion depth wrong
Using a special tool it is possible to undo the joint at a later date – and reuse the fitting
TECEfloor - manifold and expansion technology
The two-way and three-way plastic manifolds from TECE can be easily connected with just two rotations and can be combined with each other as desired - up to a 12-way manifold. This simplifies storage and increases flexibility on site: If an additional heating circuit is required, two two-way modules, rather than one three-way module, are simply used.