TECEprofil washstand modules
Our washstand modules adapt to your requirements. No matter if you need a washstand with 1120 mm or 980 mm, one with a conceales odour trap or a washstand designed as a sink, TECE offers a functional and comfortable solution.
As an addition to the TECEprofil product range, a washstand module is now available for the simple installation of water meters directly under the washbasin.
The self-supporting mounting frame is fitted with two pre-assembled mounting blocks to accommodate the most common water meter measuring capsules with coaxial 2" connections and is available in an installation height of 1120 millimetres.
Washstand module to sit at and roll under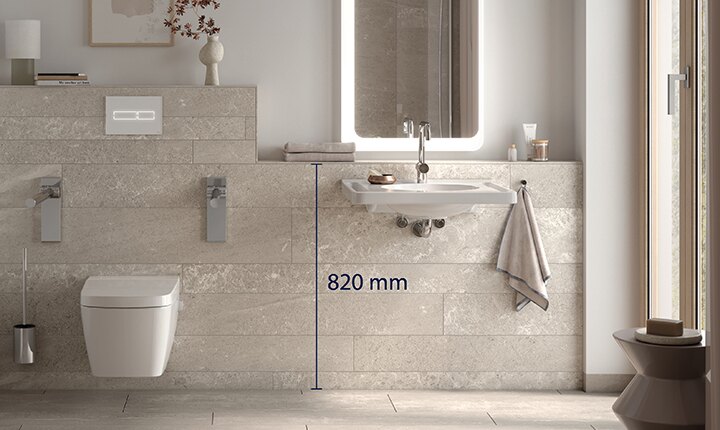 The extensive product range of TECE dry-wall modules is getting a new addition: The reduced height of the new washstand module is, amongst other things, intended for the applications "barrier-free" and "Geronto" without folding mirror – it is also available with a space-saving, flush-mounted odour trap.
TECE has reduced the height of the new washstand module to a range of 820 to 980 millimetres – extended module feet enable the variable height-adjustment of the frame. That makes it suitable, for example, for use in the Geronto sector, where washstands are often used while seated and the bathroom mirrors are installed at a correspondingly lower height. This means the user does not have to resort to an expensive and often unpopular swivel mirror.
The new washstand module is also available with a flush-mounted odour seal. This avoids not only unpleasant odours: Thanks to the siphon recessed into the pre-wall, it is easy to realise standard-compliant, wheelchair-accessible washstand systems (DIN 18040-1 Barrier-free building – Part 1: Publicly accessible buildings). The washstand module is suitable for attachment to the TECEprofil pre-wall system or for installation in metal and wooden stud walls, as a pre-wall or corner module and for single block assembly.