TECE wins the ZVSHK "Bathroom comfort for generations" award
TECEflushpoint toilet remote control: Freely positionable flush button without electricity
TECE won the ZVSHK award "Bathroom comfort for generations" at the ISH in Frankfurt. The award went to the TECEflushpoint pneumatic toilet remote control. TECE Managing Director Hans-Joachim Sahlmann accepted the award during a ceremony at the trade fair. For the jury, TECEflushpoint is a statement of user-friendliness: "Even when it comes to triggering the toilet flush, there are different needs that can vary according to life situation or preference".
For people with limited mobility, it is difficult to reach typical toilet flush plates, which are usually located behind the toilet user on the cistern. This is remedied by the TECEflushpoint remote flush valve, which can be mounted on the wall next to the toilet up to 170 centimetres away from any TECE universal cistern. Both the small and the large flush can be triggered via thin hydraulic hoses - electricity is not required.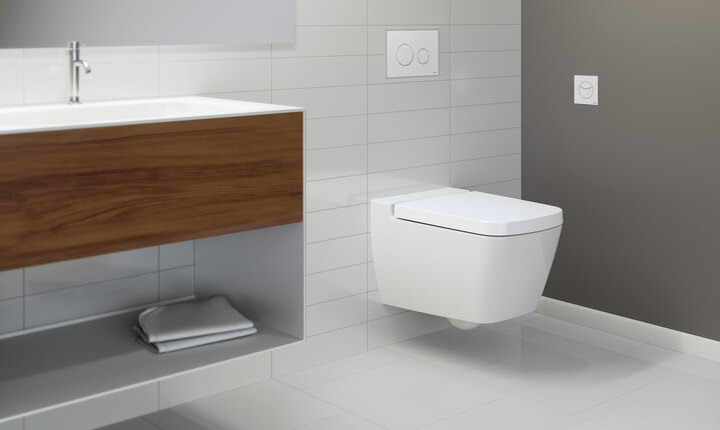 TECEflushpoint works alone or as a supplement to the classic toilet flush plate. For Hans-Joachim Sahlmann, the product is "true universal design, because creative bathroom planners also recognise the potential and set a convenient accent with the shapely TECEflushpoint solution with easy-to-grip flush release next to the toilet.
The remote control with dual-flush technology is available with either a round or square cover in the colours white, glossy chrome and matt chrome. TECEflushpoint is available in white and with a square cover for single-flush technology. The ZVSHK award "Bathroom comfort for generations" is presented every two years by a jury of experts. The prize is awarded to companies that stand out for their innovative products and services in the field of sanitary and heating technology.