TECEone - The toilet with shower function
TECEone
TECEone
The toilet with shower function
The new TECEone deals with nothing less than your behind. Because we think: It deserves better treatment than it generally gets. How about cleansing care, in the form of a freshening jet of water, for example?
When it comes to our body's daily cleaning ritual, water is essential - that's a given! So why is four-ply paper the best we can think of when it comes to more intimate personal cleansing? No, it doesn't make sense to us either. That's why we're now giving the toilet an upgrade: with a new shower function for greater comfort and better hygiene all round.
TECEone – the toilet that does more!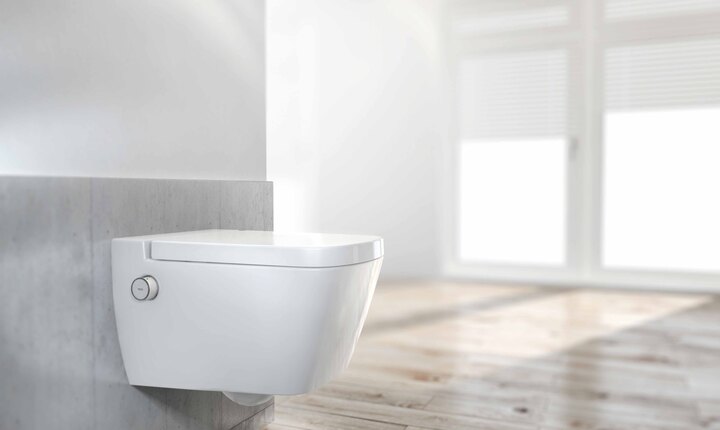 This is how it looks!
TECEone not only shines with inner values -
it looks pretty good too! Thanks to the timeless, elegant design, it integrates into any bathroom ambience and combines well with the existing bathroom furnishings.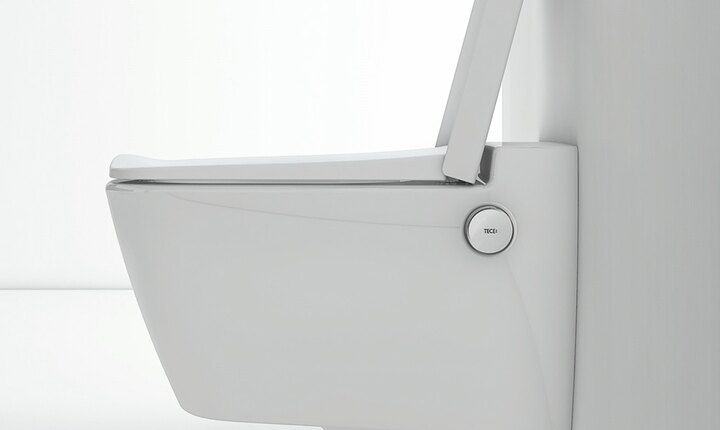 How it works!
No new controls to master - if you have ever turned a dial before, then you already know how to work the TECEone!
It's as easy as that. And just as intuitive. The rotary selectors are within easy reach on the side of the bowl. Turn the left-hand one and you can set a comfortabel temperature, quickly and accurately.
You turn the selector on the right and you have precise control of the abount of water.
Water pressure pushes the shower arm out and away you go. Plenty of fresh warm water right from the tap. Sheer enjoyment!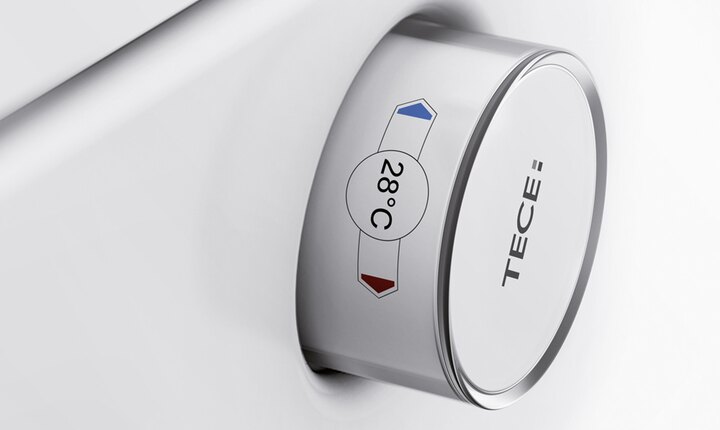 The dial on the left allows y ou to set the water temperature precisely, up to 38 °C.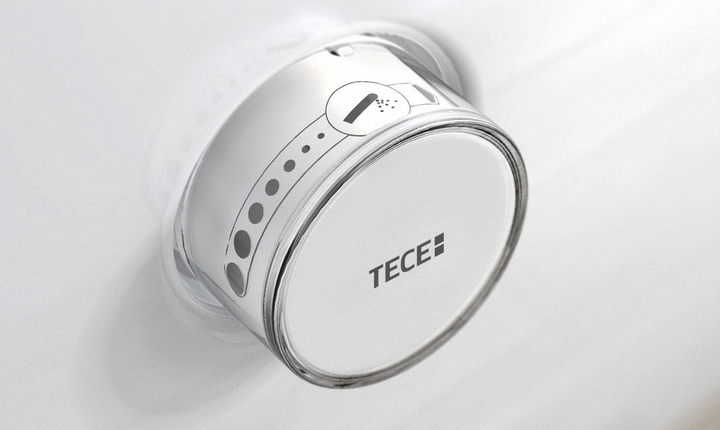 The dial on the right allows you to adjust the amount of water as you wish up to 5 litres per minute.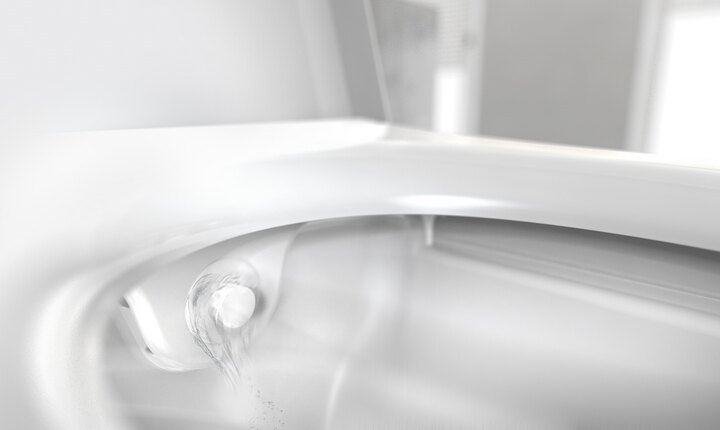 A small turn to the right, and the centrally positioned shower arm is pushed forward by water pressure, cleaning itself automatically in the process.
How convenient!
A whole new dimension of convenience – that's what the TECEone has to offer! With the ceramic, for example, because it's rimless and is therefore particularly quick and easy to clean.
The ergonomically designed toilet seat is comfortable too - it optimally adjusts to your body shape and is thus totally comfortable. Another convenient little detail  lies in the clever fixings with inset bolts. These ensure that the seat remains secure, that it can be removed easily for cleaning and is equally straightforward to reattach.
And because we want this little place to truly stay silent, we have also incorporate a soft-close function.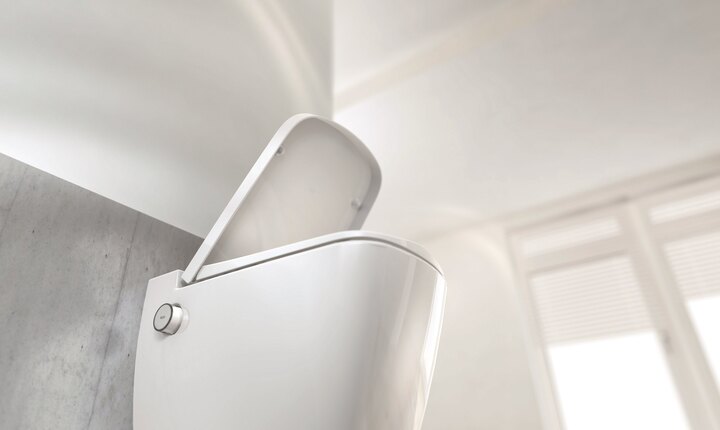 With its soft-close function, the lid of the toilet closes with virtually no sound.
The rimless ceramic bowl makes the TECEone easier to clean.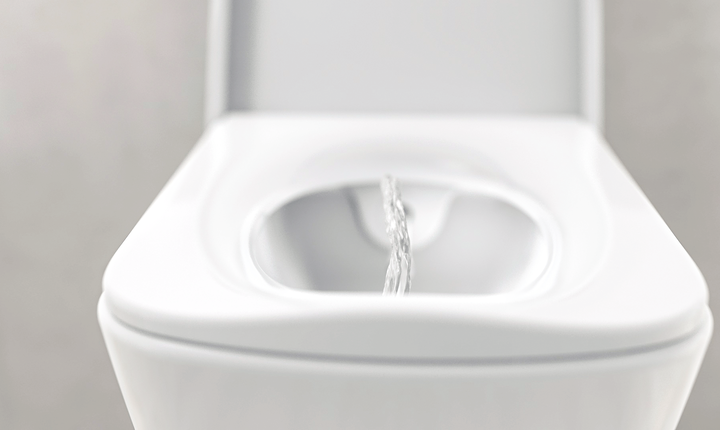 Relax in the comfort of ergonomically designed seating.
Affordable luxury.
Spending pennies, not pounds
.
It's pretty lavish. As far as quality, furnishings and your own well-being are concerned! On price, though, the TECEone is really very modest: This new toilet gives you twice as much functionality, hygiene and convenience without costing twice as much. It's pretty economical! Even on space.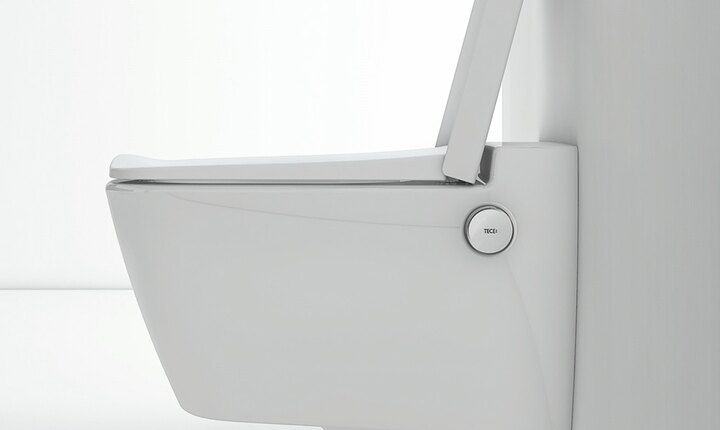 You want to know all about it.
You can find all you need to know about the selection, planning and assembly of TECEone in one glance here.
Don't forget: A warm and cold water connection with corner valves must be installed on site for the shower function.
You can find suitable upgrade sets among our installation accessories.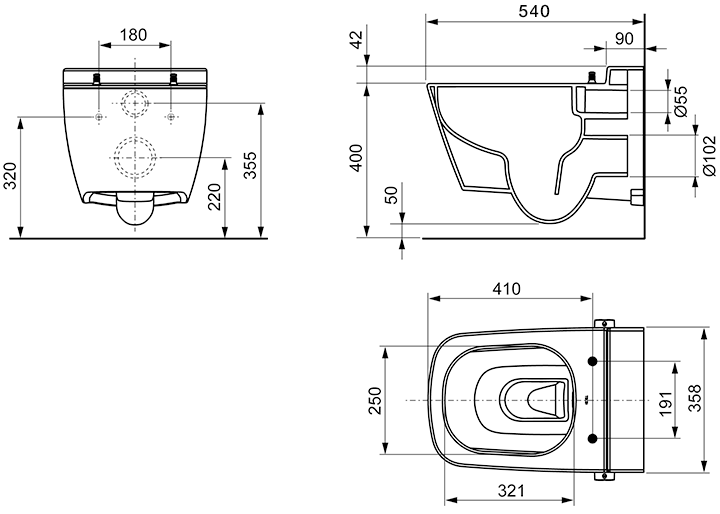 TECEone – Convincing performance in the comparison test
After a product history of half a century, it's time to think about how to improve the shower toilet, how to make it easier to use and more aesthetically pleasing. TECEone is a paradigm shift – a shower toilet that does not require electricity and is supplied with fresh warm water from the mains. A product test just before the ISH: By order of the trade journal, SBZ, Esslingen Technical College tested ten shower toilets, and the TECE scored the best results in virtually all areas. No power supply? It works! It really works!
Shower toilets need power! But do they really? TECEone represents a shift in the paradigm stipulated by the 1956 inventor of the shower toilet: the Swiss inventor, Hans Maurer, was an office machinery technician – electricity was a new thing at the time and there was no alternative as far as he was concerned. This way of thinking has remained unchallenged for 50 years. However, there are other ways: With deliberate focus on the core function, hygiene, TECEone proved itself in the comparison test. 
The best shower toilets came up against each other in the Swabian town of Esslingen. Under the scientific leadership of Professor Hans Messerschmid from the "Building, Energy, Environment" faculty, the products were examined by order of the trade journal, SBZ and its editor-in-chief, Dennis Jäger. Seven disciplines were stipulated – inspired by the standard currently being developed: The temperature of the warm water at the nozzle outlet, the temperature distribution of the heated toilet seat, the drying rate of the warm air dryer, the energy requirement for electricity, the water volume flow rate from the nozzle and the two core disciplines: "cleaning effect of the shower nozzle" and "self-cleaning effect of the shower".
The tests - and the results
Temperature of warm water at nozzle outlet:
| | |
| --- | --- |
| Time taken to reach maximum temperature | 2 seconds (best score) |
| Time taken to reach minimum temperature | 2 seconds (second best score) |
| Water volume flow rate from nozzle (max) | 5.6 litres/minute (largest volume) |
Cleaning action of shower nozzle:
3 mm perforated plate coated with mustard
best score at minimum pressure
8 mm perforated plate coated with mustard
third place at maximum pressure
Cavity with miso paste (normal jet)
clean in one second
(best score at max. pressure)
| | |
| --- | --- |
| Self-cleaning of nozzle: | clean (like 6 out of 10 of the models) |
| Temperature distribution of heated toilet seat: | not tested |
| Drying rate of dryer: | not tested |
| Energy requirement for electricity: | none |
Source: Esslingen Technical College/shower toilet test by order of the journal, SBZ/version of 02/2017
Shower toilets will be easier to use, more hygienic and longer-lasting in the future. And all that at an attractive price.
Our main investigations focus on user expectations – and users are demanding hygiene and cleanliness for their bottoms! Example of the shower nozzle: The extended shower arms on all models are cleaned before and after use by rinsing them all over. For the test, lines were marked with a felt-tip pen and then attempts were made to get them clean using the built-in hygiene flush. This test is included in the future standard. TECEone and five other toilets passed the test; however, four toilet shower brands showed traces of "contamination".
For the first time, the cleaning effect of the products was also tested – three different "bottom simulators" made of Plexiglass were coated with mustard and miso paste and then placed on the shower toilet. The Technical College's findings: If you consider cleaning efficiency on its own, large volumes of water cannot currently be replaced by anything else. In terms of volume flow, TECEone is in a class of its own at the top – and this is translated into it gaining top scores in terms of cleaning efficiency.
Our customers want products that they can control.
TECE's Development Manager, Martin Krabbe, points out that with the product, TECE is taking a different approach while placing its trust in proven technology: "The thermostatic mixer and cartridges are robust components which have proven their worth over many years. Every fitter is familiar with them. When correctly implemented, a fantastic shower toilet can be built with them." The manufacturer announces that it expects the new product to be ready for supply by the middle of the year, and the tests confirm this. Mr. Krabbe: "Shower toilets will be easier to use, more affordable, more hygienic and longer-lasting in the future."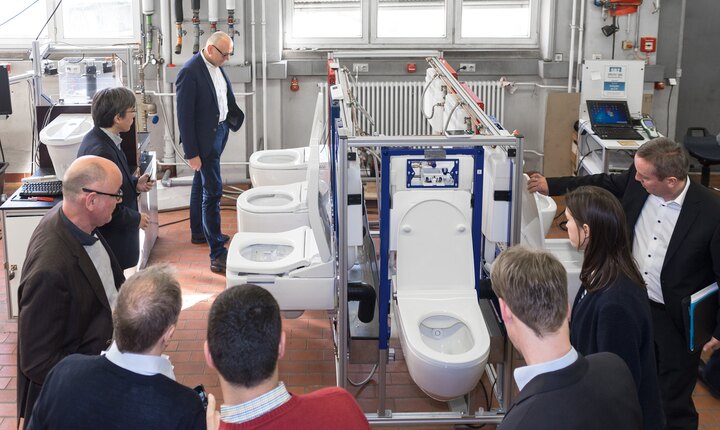 Shower toilet test by order of SBZ at Esslingen Technical College: Professionals from the industry find out about the test procedures and results at a hearing.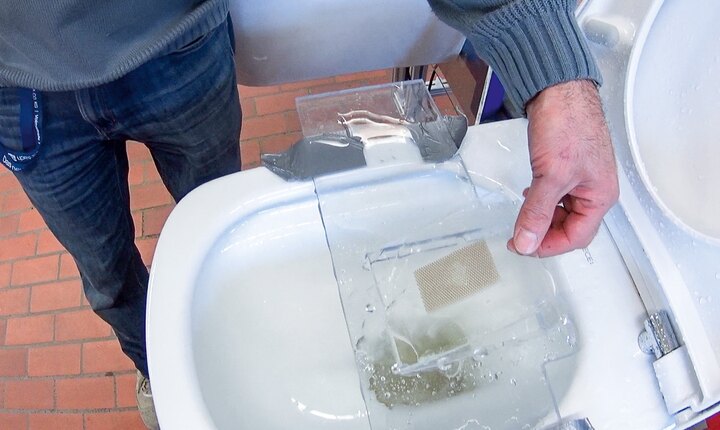 Investigating cleaning performance: Testing TECEone. The Plexiglass perforated plate is coated with standard, medium hot mustard before being cleaned.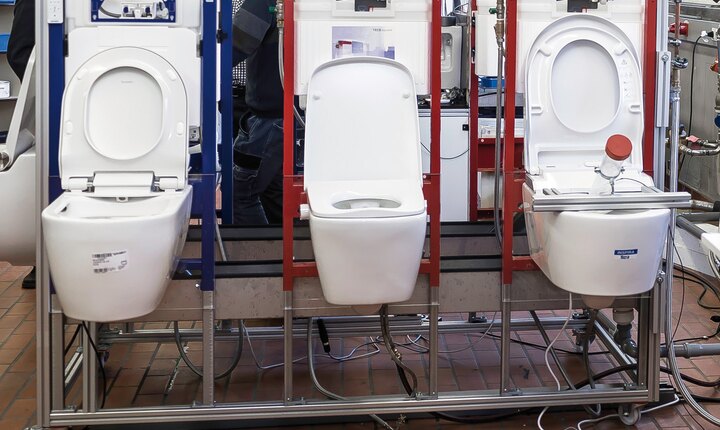 TECEone (centre) sits compact und elegant between its rivals.